The Notwist
Neon Golden (Domino)
By: Cam Lindsay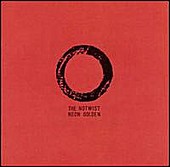 Germany's The Notwist have been around ever since 1989, but it seems like time and effort is now paying off with their sixth album. Entitled Neon Golden, this long player sees the quartet at their most accessible moment in a career spanning over 14 years. Mixing jazz, electronica, experimentalism and pop, it's a record that seems like it should have gaps here and there, but it couldn't be more perfect.

The songs on Neon Golden are all sweet, pocket-sized lulls, full of well placed breakdowns, gentlle brass arrangements and unchallenging melodies. Markus Acher's vocals are distant but they don't alienate the listener. They constantly play tricks, with moods swings occuring at the drop of a hat. He may sound unmoved while he sings on "Solitaire", but his cold delivery reacts well with the heavy, industrial beats. "Consequence" is the polar opposite, giving the impression he is sad and heartbroken.

The Notwist's collective sound - Acher's subtle, harmonic guitar (which sees more action on "One With The Freaks"), his brother Micha's thick, steady basslines, Martin Gretschmann's imaginative electronic twiddlings and Mecki Messerschmid's sporadic beats - bring so many different elements to the table that there is just so much to keep an ear out for while listening.

Neon Golden was a critical success in Europe last year, but now that it has a proper North American release, which includes a generous three bonus tracks, expect to see its name making the headlines again this year.