Calexico
Feast of Wire (Quarterstick Records)
By: Alex Steininger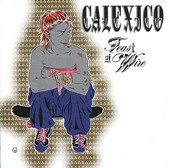 On their forth full-length, Feast of Wire, Calexico hits their stride, delivering their most ambitious record to date, a colossal fusion of post-rock experimentation and alt-country/Americana roots, all delivered with a strong pop upbringing. Trading off styles from track to track, stringing them together with the same experimental mindset that runs through the album. And then bridging them with the pop touch, front man Joey Burns is able to use his surprisingly versatile settled, restrained voice to add the right amount of kindle to help set the songs on fire.

A spaghetti western at the core, "Black Heart", the album's longest track (falling short of the five-minute mark), goes beyond that of its foundation. The strings deliver an orchestrated, tension-building element over the nimble acoustic guitars, while the rhythm section gracefully slides between delicate notes and ever-present beats that jump up front, matching the presence of the strings.

Burns' voice, throughout the experimental composition, holds true, implementing country, soul, and folk elements to further bring the song to its climax.

"Close Behind" finds the band blending Spanish dance music with the sounds of the old west, and eerily delightful combination that is as weepy as it is uplifting, often times crying tears of joy as it celebrates triumph, while the desolate remains embedded in its notes.

Never allowing the songs to get over-indulgent in their pursuit of experimentation, interludes like the minute and a half "The Book and The Canal" lead into songs like "Attack El Robot! Attack!", an instrumental jam that has the band crossing genres, and borders, to deliver a sound that is both traditional and new.

Whether you're coming into this expecting the familiar Calexico, or want to hear how the band has progressed in the three years since the release of their last album, Hot Rail, you will not be disappointed. Just as the band grounds their songs in the styles of the traditional, before taking them beyond anything the traditional sounds ever experienced, Calexico brings into play plenty of what you can find on their earlier albums, while forging ahead with a new sound. I'll give this an A+.