Amy Rigby
18 Again (An Anthology) (Koch Entertainment)
By: Alex Steininger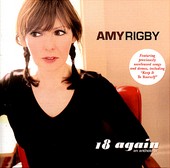 Cutting her teeth in the New York-based cow-punk outfit The Last Roundup, and earning a cult following in The Shams. Amy Rigby's three albums - 1996's Diary of a Mod Housewife, 1998's Middlescence, and 2000's The Sugar Tree (all on Koch) - have been cherry-picked for her latest, 18 Again (An Anthology).

How or why she has an anthology with little more than six years under her belt as a solo artist, and her three albums still readily available, is beyond me. Regardless, 18 Again (An Anthology) finds Rigby at her best, the last six years compiled into one 64 minute album with 18 tracks.

The power-pop raucous of "Raising the Bar", a duet with John Wesley Harding on the acoustic sing-along country number "Beer & Kisses", another slice of power-pop on "Wait Til I Get You Home", or the soul-tingled storytelling of "Invisible". All of the 18 tracks on this anthology are stripped to the basic core, played out in a loose, fun-lovin' fashion, lyrics reading like a diary at times, and Rigby's voice going wherever the song wants it to.

This is a strong collection of songs that range from straight up power-pop to downright hee-haw. Covering angst and depression, sadness, and happiness, Rigby's songs span the gamut and sound quite ice nice in the process. I'll give it a B.