INTERVIEW: Nasty On
City Sicksters (The Nasty On's web site)
By: Stan Hall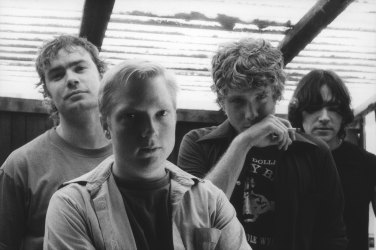 If you happen to drop in on music trivia night at some watering hole in Vancouver, B.C., take a look around and see if local heroes Nasty On are in the establishment. Then buy them some Molsons and convince them to let you join their team -- you'll probably end up on the winning squad.

Nasty On -- singer-lyricist Jason Grimmer, guitarist Allen Forrister, bassist Matthew Lyons and drummer Chad Mareels -- is a bunch of rock history and film geeks, Creem magazine collectors who titled their first EP after the late, great rock critic Lester Bangs, then got a friend to design an illustration of the man for the cover. A band whose guitarist rejoiced when the record store in his native North Battleford, Saskatchewan actually had copies of the Pixies' "Trompe Le Monde" the day it was released worldwide. A band that conceived the cover art of its first full-length album as a thematic cross between the Velvet Underground's "Loaded" and Martin Scorsese's "Mean Streets." A band that, when making its first full-length album, even went to the trouble to make sure the back cover track listings were out of whack with the actual running order, just as a tribute to a rather obscure practice by some classic rock groups (check out a copy of the Stones' "Let It Bleed" for an example).

Rock is an ongoing story to Nasty On, and its irresistibly hooky, yet crushingly heavy music is a new wrinkle on a grand tradition. As the band members sit in a dark corner of a British-style Portland pub before playing the next show of its first-ever American mini-tour, they earnestly testify about their rock education.

"The history of rock 'n' roll is very, very important to me," declares Grimmer. "Listening to Guided By Voices helped me develop a respect for rock 'n' roll from the 50's to now. And I think the 'Lester Bangs' EP in a way said this is who we are, this is where we're coming from. Not a simple thing, but the result of researching the history of rock."

Now, sporting "CitySick," one of the strongest debut full-lengths by a Canadian band in ages, Nasty On is ready to make some history of its own.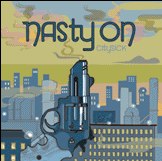 "CitySick" clocks in at a lean and mean 35 minutes -- yep, most of rock's classics are closer to this length than the bloated aural tomes of the CD era -- and in that relatively short span of time the album's 10 tracks evoke a laundry list of aggro-rock's titans: the Stooges, the MC5, everything on the "Nuggets" compilation, the Sex Pistols, the Dead Boys, Rocket from the Crypt, Black Flag, the Replacements, AC/DC, the Pixies, you name it. There's even a whiff of the shallow-but-fun days of 80's hair metal. But Nasty On blends all of these influences so well, and with such power, style and class, that "derivative" is the last word comes to mind when describing this music -- even when the album's opening guitar salvo is lifted straight off the Clash's "Police On My Back."
"That's funny -- I don't even really listen to the Clash," says Forrister with a bemused laugh. "When I wrote that song, Jason had called me up and said, 'we should write a song that sounds like the Who.' So I listened to the Who for about 10 minutes and came up with a riff that I thought was sort of like 'Happy Jack,' but faster. But hey, maybe the Clash ripped off the Who!"
Happy accidents aside, "CitySick" made a massive impression on the already-healthy Vancouver rock scene when it was released last summer. Almost immediately, the band found itself on the cover of a prominent alternative weekly, and one critic went so far as to proclaim "CitySick" the best album to come out of the city since 1986, when an obscure (outside of Canada) band called Slow rocked B.C. with its one and only release, "Against the Glass" (another nod to rock history: Nasty On covers the title track in its live show). American magazines Kerrang, Alternative Press and Big Takeover raved. In Backfire magazine, grunge-era producer of choice Jack Endino punctuated his very enthusiastic review ("We couldn't have written it better ourselves," marvels Forrister) with an all-caps exhortation to U.S. labels to get off their duffs and sign the band.
All of this was pretty hard to imagine when the quartet first got together in May 1999. Like most Vancouverites, the members of Nasty On come from somewhere else: Forrister's from Saskatchewan, Mareels is from Ontario and Grimmer and Lyons hail from the same small town in New Brunswick. Before the current lineup formed, Forrister, Grimmer and Mareels had a couple of previous bands. "Let's not talk about them, none of them ever did anything," says Forrister. "We recorded with a microphone into a ghetto blaster, never played any shows." Grimmer's love-hate attitude toward Vancouver (a big factor in the loose theme of "CitySick") eventually drove him back east, but boredom set in and he found himself back out west after a year. When he returned, he found that Forrister and Mareels had really improved in his absence and needed a singer. Lyons joined soon after, and Nasty On was on.
"We booked a show as soon as we started practicing," laughs Lyons.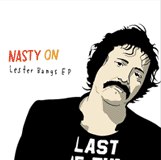 The "Lester Bangs" EP came out at the end of 2000 on the band's own Stutter label. "The song 'Lester Bangs' came about because Allen said we needed to write a song about a dead person," explains Grimmer. "I'm a big fan of rock writing, of Lester Bangs, coming from a small town where you'd always try to get your hands on rock magazine. We recorded that song and a few others -- they were demos. And then we were tired of waiting around and thought, 'hey, we'll put it out ourselves.' And the guy who does our graphics said, 'Why don't you just put it out, man, and call it "Lester Bangs"?'"
Adds Forrister, "Right at the same time, 'Almost Famous' came out and we thought, 'Hey, maybe we'll get noticed!' Uh--no."
"We put out the EP because locally we'd been around for a while," Forrister continues. "We were like, 'if we don't give something back to the people who've been coming to our shows, we're going to end up being one of those local bands that's been around three years and everyone eventually just gives up on.'"
"And then we started signing other bands to the label, like the Cinch, the Notes From Underground and Video Tokyo," adds Grimmer.
The EP solidified Nasty On's standing in Vancouver, but the group was eager to move on to bigger things. "We've probably written 120 songs, recorded close to 80. Always written lots," says Forrister. It was time to take the best of those songs and put that classic first LP together.
The original version of "CitySick," produced by the band and Jay Solyom (the Spitfires), was bashed out in a similar manner to the EP, in about a week and a half. But Grimmer had had a sore throat, and the band just wasn't satisfied with the overall result.
"On the original recording," says Forrister, "we had a lot of the songs, we had 'Apology,' 'Please Kill Me,' 'X-Ray Eyes.' So we recorded 14 songs, and six or seven other crappy ones. And after we were done recording, our mental palates cleared, and the songs started falling out -- 'The Ship That Died of Shame,' 'Not in Love,' 'CitySick' and 'CitySick part 2.' Some really great songs."
It was the emergence of the slow-burning epic "The Ship That Died of Shame," with lyrics based on the 1955 movie of the same name (the U.S. title is "PT Raiders"; the movie is based on a novel by Nicholas Monsarrat), that convinced the band it was time to go back to the studio, start over and really nail the record.
"That song changed everything," claims Grimmer, and he's right. As excellent as the rest of the album is, "The Ship That Died of Shame" is an absolute monster, sounding like a mad, frothing poet fronting a codeine-impaired AC/DC -- a masterpiece. In Portland, as the opening band on a sleepy Wednesday night, Nasty On played this song to no more than 15 people, a number that includes the members of other bands, the bartender, the sound guy and the doorman. It's almost ludicrous that so few were there to see it, but that didn't stop the band from going all out.
Having conquered Vancouver, Nasty On's next task is to take its particular gospel to the U.S. and beyond. For all the acclaim, few know the band outside western British Columbia, Edmonton and Calgary -- and that's not a fun circuit.
"Western Canada's really hard to tour," laments Mareels. "It's sometimes a 10-hour drive between shows." A longer U.S. tour is planned for May, and an October jaunt to Europe is in the works. In the meantime, the ever-prolific Nasty On is already itching to start the follow-up to "CitySick." "We should have another album out this year," predicts Mareels.
"We've recorded the music for 18 other songs," says Forrister. "Of course, we've moved too fast, because Jason doesn't have any lyrics for the new songs!"
"I personally hate practicing at all, so I try to avoid it at all costs," explains Grimmer.
"But we still drag him, kicking and screaming and pissing his pants," laughs Mareels. "It's important for the singer to show up because all of a sudden he'll get inspiration. And he can often redirect the song."
As dedicated as they are to their music, the members of Nasty On aren't hell-bent on world domination.
"Honestly," says Grimmer, "it would be nice to have money, whatever, but just from the aspect of loving records, I would be happy to put out a record that 20 years from now some kid finds and loves and plays for all his friends."
"We don't have to get rich, but we'd all love to do well enough at this to make a moderate living," Mareels adds.
Grimmer raises a bottle of beer. "And if he doesn't, Chad's going back to funk-metal, man!"
"All the way," Mareels snickers.
For now, give Nasty On a footnote in your rock history textbooks. Who knows? Maybe they'll receive a whole chapter before long.