Clark S. Nova
Dim Summer (Pyraphonic Records)
By: Alex Steininger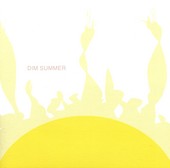 Clark S. Nova's debut full-length, Dim Summer, picks up where the The Oscillations EP left off. Whereas the latter thrived more on electronic grooves than production, with Dim Summer Nova is able to take the elements - the foundation - he had with The Oscillations EP, brighten it up a bit, and flesh out the songs with strong production values.

The result is a cerebral collage of rock, pop, and electronica, with the main focus the latter of the three, though the other two genres play a big role in Dim Summer.

The opening track, "Reborn Again" is a perfect example. Hook-laden and propelled by a lightweight rock sensation, Nova's brand of electronica pulsates with the computerized drums taking the drivers seat, though no matter what he does, he can't escape the electronic vibe that is at the core. He makes up for it with the heavy dose of pop, doing what is lacking in electronica today, creating something you can sing along with above and behind the already danceable beats.

"Every Dime" is as close to a ballad as one can get in the electronica genre. Though its indie-rock, atmospheric palette and melancholy-tingled guitars make the song much more than an electronica number, possibly even pushing it out of the electronica genre all together and placing it firmly in the spacey, ambient indie rock category.

The rest of the album tangles and unweaves itself through spacey, indulging sounds and textures, with Nova creating layers upon layers of sounds at times to play with your mind with everything that is going on at once, while at other times preferring the sparse. I'll give this a B.