VARIOUS ARTISTS: Nothing Left To Lose
A Tribute To Kris Kristofferson (Incidental Music)
By: Alex Steininger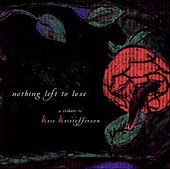 One of the most unique tribute albums to date, Nothing Left To Lose pays tribute to Kris Kristofferson, one of country music's finest songwriters. By re-interpreting his tunes, much of the time taking a complete 180, each song transforms into the respective artist's, a fitting tribute to a man that did so much of transforming country music.

Zmrzlina with Milk Chopper turns "Me & Bobby Mcgee" into a brooding space-pop song, lavish and dark, the sullen cello anxiously melds with the dark rhythms, the melody taking the song into another realm.

Calexico's "Casey's Last Ride" retains the a country tingle via Calexico's left-of-center styling, paying homage to Kristofferson by carrying the outlaw country torch while forging ahead with their own brand of Americana.

Granfaloon Bus turns "Kiss the Whole Goodbye" into a lo-fi, acoustic-centric pop song, retaining the emotional and intellectual struggle of Kristofferson's own, while adding an indie-pop flare.

Others, such as Rebecca Gates with Califone ("Nobody Wins"), Califone ("Border Lord"), Radar Brothers ("Help Me Make It Through The Night"), Creeper Lagoon ("Why Me"), and Grandaddy ("Best of All Possible Worlds") put their brand of indie-rock spin on Kristofferson's originals.

Then there are artists like the Handsome Family ("Sunday Mornin' Comin' Down") and Richard Buckner ("Lovin' Her Was Easier (Than Anything I'll Ever Do Again") play the songs with a roots-y feel, both forging ahead with enough pop elements to shake things up.

Souled American's bluegrass version of "Please Don't Tell Me How the Story Ends" brings a whole new direction for the song. And let's not forget Howe Gelb (of Giant Sand) and his version of "The Pilgrim (Chapter 33)", with an introduction explaining how and why he learned the song before he plays it.

Incidental Music scores a big hit with Nothing Left To Lose, a true tribute album that finds less-than-obvious bands to cover Kristofferson and shed new light on his classics. The result is truly stunning. I'll give it an A.