Christina Aguilera
Stripped (RCA Records)
By: Alex Steininger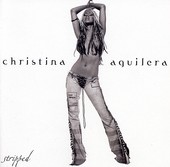 Innocent teen pop star Christina Aguilera gets naked (almost literally, if you look inside the CD booklet) on her latest full-length, Stripped. All grown up and ready to show off what she has - her body and voice - Aguilera delivers a soulful, danceable R&B record that should once again captivate radio listeners (and radio programmers) and find itself all over the airwaves.

Transforming herself into a sex symbol, Aguilera's goal of achieving an older audience has been met. No longer will the 12-year old girls be flocking to Aguilera; now your frustrated house wives and sexually active 16 year old girls will call Aguilera their role model. Modern R&B fans should also find solace in Aguilera's sound as she "speaks her mind" as proclaimed on the opening track, "Stripped Intro", a cut that also features news clips and comments from Fred Durst regarding that MTV News rumor about Durst and Aguilera's relationship.

Preconceived notions aside, Aguilera really does have an amazing voice, unlike that of her former Mickey Mouse Club co-star Brittney Spears, now another one of Durst's objects of affections. That's beside the point. Aguilera is full of soul and can sing her heart out, which she does on Stripped, giving modern R&B fans something that should make them wet. I'll give it a B.