INTERVIEW: Serious Black
An interview with Steve Mecca (Hear Serious Black's Music)
By: Sonya Brown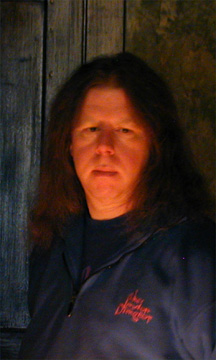 Elmira, New York is the birthplace of Dante's Landlord - a new eclectic record label featuring Serious Black, the latest music project of Steve Mecca. Dante's Landlord brings Serious Black out of Purgatory and into the world of independent music.

Mr. Mecca now chats with In Music We Trust about Serious Black, Dante's Landlord, and his debut full length CD, "Barbican".

Sonya: Steve, speaking of "fat" ladies singing... Why ARE you holding that roll of duct tape behind your back?

Steve: Funny you should notice. Duct tape is very useful. It can be used to hold many different things together or keep them from falling apart and it's a wonderful dull silver-grey color. Even my wife uses duct tape now & then to give herself more cleavage. There should always be a roll of duct tape handy. I'd never be without it.

Sonya: What is the story behind the name "Barbican"?

Steve: A "barbican" is a forward defensible structure in front of the main part of a castle. It added fortification to the weakest part of the fortress (the main gate) in times of siege. It contained murder holes & chutes where arrows, rocks & boiling oil would rain down on attackers.

There's a picture of the barbican at Warwick Castle inside an archway on the cover of the CD. It seemed like a good place to begin an invasion into the world of Serious Black.

Sonya: You mention in your press kit that "The Garden of Earthly Delights" is a re-make originally recorded in the sixties by "The United States of America". I must admit that I'm not familiar with this band. Please tell us about this track, and why you decided to include this re-make on Barbican.

Steve: Few people are familiar with the song, Sonya. They were a remarkable group for their time. They used synthesizers, ring -modulated violin, vocal-processing and a lot of effects. They were pioneers of electronic rock music before progressive rock groups ever touched a moog. And no guitars! They were lumped into the psychedelic movement I believe but their songs were quite interesting. Definitely "extreme fringe-pop". Joseph Byrd (group leader) & Dorothy Moskowitz (lead singer) wrote "The Garden of Earthly Delights". I always wanted to do a remake but circumstances never seemed to allow it. Then one day I just said "screw it, I'm going to remake it." I knew it would have to be danceable and I chose an 80's groove with a treatment that would be faithful to the original. I lucked into getting Qortni to do the vocal track. Qortni is a talented goth singer with a powerful voice that I know from a local club I frequent. Qortni's also the "poster girl for the club's (The Haunt) goth night- "Grail". She never heard the song before until I played it for her. We recorded the song in an afternoon and I spent another couple of days refining it. You should really check out the original by The United States of America if you can find it. I also understand Qortni's quite a guitarist too so we may collaborate again in the future.

Sonya: What electronic equipment was used to bring Barbican to life?

Steve: Well, I mostly use E-Mu Emulators. The E5000 Ultra and the E4000. They're samplers as is the Akai 2000 I also used. Here and there I used an Oberheim Expander, a CZ101, a Yamaha TX81Z and a TQ5. I also used a couple of MC-500 sequencers and the digital recording was done with a Roland VS1880. Here and there I used some bass & guitar, but not much at all. I'm sure electronic music tekkies are laughing at what they think is such outmoded, outdated outboard equipment (what? No REASON? No ABSYNTH? No CAKEWALK? No PRO TOOLS???) but I learned synthesizer programming on an ARP 2600. At his point, I'm not prepared or comfortable converting to virtual. Besides, the E-Mu equipment is very flexible and versatile. If it's any consolation to the tech-heads, the CD was mastered on a SADiE 24/96 Digital Mastering Editor.

Sonya: "The Pleasure Seekers" is a song about "the creatures of the night"... "a sardonic look at trendy dance-club denizens"... hmmmm... where do you generally like to be the "voyeur"? What clubs and haunts does Serious Black frequent for such fodder?

Steve: Funny you should pick that song--you know some people have actually taken it literally, like it's supposed to be some sort of poseur-goth anthem about how cool it is to be a "creature of the night". If I had a dollar for every club I've ever been to where there's this elitist "I'm more decadent than you are" attitude, I'd be able to buy a new studio! Yeah, I've done my share of clubbing. I've been to clubs in NYC, Detroit, Miami, Dallas, London & even Bali. There's a little variation but it's often the same. There's always those people looking to hog the limelight in a scene. I used to go to a lot of fetish dressing parties--it was more interesting than sneakers & jeans. I've been to The Rubber Ball in London, probably the biggest poseur bash of them all. Not real big on House Music though. What haunt do I frequent now? I guess that would be The Haunt in Ithaca NY for Grail because it's not terribly far from where I live, the people are friendly for the most part and I know the bartenders and the DJ. LOL It always helps to know the bartenders and the DJ!

Sonya: Now, with the bonus track, "Waste 'Em With My Crossbow!", you give credits to "Hackmaster", "KODT" and "Kenzer & Co." Please tell us what these names mean to Serious Black, and how they provide the inspiration for this track.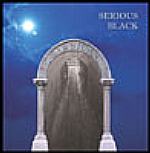 Steve: The song's title refers to a catch-phrase used by a character in the comic magazine, "Knights of the Dinner Table. The comic is a spoof on gamers, particularly a group of table-top roleplayers who play a game called Hackmaster. When the comic first began it was a strip written by a fellow named Jolly Blackburn that appeared in gaming magazines and Hackmaster was a fictitious game bases on Dungeons & Dragons.
As the popularity of the comic increased, a new game manufacturer, Kenzer & Company decided to pick up KODT and turn Hackmaster into a real roleplaying game. The game is totally based on Dungeons & Dragons but with a LOT of additional details. The Hackmaster game manuals make for a humorous, convoluted read. As they state somewhere in the introduction- "this game is not for wusses". The player called Bob in KODT comic has a favorite phrase when confronted with anything circumspect. He says, "I waste 'em with my crossbow!", typifying 'hack & slash' mentality of the mediocre gamer.
I know this song really doesn't belong on a goth-industrial CD, so that's why I made it a bonus track. It was a guilty pleasure I couldn't resist. I even did it in a mock-rock & roll format as to make it completely different from the genre I'm working in. Jolly Blackburn loves the song. We're in the process of working out a deal with Kenzerco for some promotion for Serious Black in exchange for an exclusive link from the Kenzerco website for people who want to hear the song.
Sonya: Who are some of your more prominent musical influences?
Steve: This is always such a difficult question to answer, as there have been so many over the years that I've drawn inspiration from. I suppose top on the list would be Frontline Assembly as I believe the talents of Bill Leeb and whoever he's worked (Rhys Fuler, Chris Peterson) have been extraordinary with regards to electronic music production in the techno-industrial genre. Other artists that may have been influential to Serious Black include (but aren't limited to) Covenant, Depeche Mode, Brian Eno, Haujobb, King Crimson, Kraftwerk, Nine Inch Nails, Pink Floyd, Raison d'être, Sisters of Mercy, Thomas Dolby, Van Der Graaf Generator--the list goes on and on. I really like hundreds of music artists but to list them all would be futile.
Sonya: What are the future tour plans for Serious Black?
Steve: In order to present Serious Black live there would have to be a group of musicians combining their talent to put the music across. I don't believe in "cheating" the public using mostly pre-recorded backing tracks and standing on a stage with just a synth and a microphone. I think it would look kind of ridiculous no matter how good it sounded. Live performances are a relationship between the performer and the audience exchanging energy. I'll only perform live if the CD does well enough to be able to afford quality musicians to help me put the music across. I'm not ruling it out but I'm not going to do anything half-assed. I've performed live quite a bit in the past. If I do it again, I want to make it memorable.
Sonya: "Days of Future Past" seems to be a love song. What's the story?
Steve: Well, I wrote that song for my wife, Maryann. It's a ballad and a change of pace I wanted on the CD to keep tracks from becoming too homogenous. It's very sentimental. It uses simple harpsichord, viola & string section, flute and voices in the orchestration. I tried to make it sound like a troubadour might sing it. I've never actually written a love song before. That's my friend and CD cover designer Rich LaVere on vocals. He was able to carry it off much better than I. Rivetheads are bound to hate it but I won't be constrained to pre-conceived formats.
Sonya: "Discipline" presents more of a fetish theme. What sort of background experiences went into the development of this song?
Steve: Sounds like a loaded question to me! I've been to fetish parties and observed some very interesting behavior so that was more or less the inspiration for the song. I enjoy exploring the dark side of things . "Discipline"on one level appears to be about a male dominant chastising his defiant submissive. On another level, it's all part of the game. Aside from that, the track makes for good menacing fun at a fetish-themed party!
Sonya: Please tell us a bit more about the Dante's Landlord label. For instance, other artists that may be appearing on the label soon, new releases, outreaches to film, etc.
Steve: At this current point in time, the only artist on Dante's Landlord is Serious Black. The label was created out of necessity as getting a "label deal" would have taken way too much time and effort without bringing the music to people quickly who enjoy it.
Many "independent" labels are in serious financial trouble and don't have the resources to adequately promote their artists. Adequate compensation as a new artist by nearly any label is an unreal expectation. About all you can expect initially from a label is some form of distribution and the loss of rights to your music. Hardly seems like a fair trade-off. I don't have great distribution yet but I still have the rights to the music. Most of the money from CD sales produce will go back to me. Of course, that money has to go to pay production costs. I need to sell a LOT of CDs to make any kind of a profit. If the Barbican CD does well I might consider other artists on the Dante's Landlord roster.
I'd have to have really good distribution first, in all fairness to any artists involved. Promotion is a learning experience and I'll be in the classroom for quite some time. As far as film goes, soundtrack work is a possibility. I'll be exploring that more in 2003.
Sonya: Please tell us a bit about your musical background.
Steve: I started out as a bass player playing in various bands but never really felt creatively fulfilled in the role. When I began experimenting with synthesizers I found my creative niche in programming analogue machines at first. I was in a band called Chemistry Set. We were sort of a combination of Devo and Berlin. By the time we were adept at what we were doing new wave was in it's death throes. Inevitable personality & relationship conflicts also contributed to it's demise. Under the name of Malaysian Pale I collaborated with a bandmate from Chemistry Set and another musician. The music was Tangerine Dream inspired electronic world music. We put out a CD that sounded more like an ambient soundtrack to a travelogue than an electronic Tangerine Dream clone.
We were signed to a small California label called Fortuna that was big in the New Age music scene. We did get decent US & European distribution and I still find the CD, "Natures Fantasies" around in the oddest places. Getting lumped in the New Age category was not where I wanted to be and I was going through my own personal crises so I stopped doing music for a time. I moved away from NJ to upstate NY and slowly reassessed my creative direction. There was beginning to be a resurgence of electronic music and I found myself gravitating towards groups like Front 242 (forgot to mention their influence under your prior question) Frontline Assembly, Mentallo & the Fixer and a lot more obscure techno-goth-industrial-what-have-you projects that were coming to light in the early 90s. I was also really intrigued with the concept of dark-ambient after discovering Raison d'être, Caul, Megaptera and a lot of CMI groups. I felt an affinity for it. My early solo work was a demonic psycho-sexual m?lange of ritualistic dark ambient tracks. I threw traditional song form out the window. I think I had it in mind to create dark music for sinister cinema. Somewhere along the line though my creative bent led me back to the popular song format. I just couldn't escape the beast of the beat. I settled on a compromise where the songs would get their due but there would be elements of soundscapes and dark ambient. I think I have FLA's last few albums to thank for that.
Sonya: What does Serious Black have on the agenda for 2003?
Steve: I'd like to feel out the European market, particularly Germany. I was speaking with Rachel of The Cruxshadows and she said Germany had been very good for them . I'll also be concentrating on the UK, college stations in the US and keep looking for distribution opportunities. I could have the CD in every music store across the continent but without exposure it wouldn't do much good.
I'm sure I'll be remaining active in the Yahoo groups and other select goth-industrial music sites.
Oh, there is one or two more things. There will be a Serious Black song on a DeKonStruKtion Records compilation called "Blaklite Assembly" coming out very soon available at http://dekonrec.tripod.com and Serious Black has been requested for another compilation elsewhere but the details have yet to be worked out. Anyone interested enough to donate promotional services please get in touch with me. I could really use the time to start working on the second CD!