INTERVIEW: Scorch
Manifest Destiny (Scorch's Web Site)
By: Jett Black



SCORCH(ing) HOT NEWS: SCORCH opens for Kittie & Biohazard Jan. 25th @ Harpos with a battallion of guitars and percussion! SCORCH storms forth from Detroit, Michigan unleashing "FACES", their debut full-length army of metallic harmonies scarred by a fury of ferocious guitar riffs.

And next, HOT OFF the PRESSES... SCORCH provides a stunning, high-quality Artist Profile presentation in support for the Official SCORCH CD Release Party & Live Video Taping at Paychecks in Hamtramck, MI on Friday, Feb. 21st which will also include many special effects, fog, strobes, and more!!!!

Now, let's jump right in, and listen to what Russ Meuchel (SCORCH-ing vocals and guitars) is sharing about the All-New music appearing on FACES.

IMWT: Please describe how music by SCORCH is enhanced by percussive elements.

Russ: By adding 2 extra percussionists, it adds another dimension to the music. When you listen to the CD, you will hear underlying rhythms which compound a new layer of heaviness within the already powerful grooves. When all the drummers come together during the simpler and/or faster guitar riffs, it makes it that much heavier. The extra percussion definitely makes this CD one that you can listen to over and over and catch a new instrument that you didn't notice the time before.

IMWT: What skills and talent do other musicians bring to Scorch?

Russ: Let me begin with Big Daddy Dave: our diabolical drummer. Dave and I have telepathy when it comes to original material. When I write new guitar riffs on my own, I usually envision what kind of drum beat would go with it in my head. Normally, within five minutes of jamming with Dave, he hits the nail right on the head, and then some. We'll be playing a series of riffs for the first time for 5 or 10 minutes in a row, and he'll miraculously stop at the same time as me. He never ceases to amaze me with complex rhythms and innovative imagination. Unlike most drummers who write normal grooves, blast beats or typical straight-up double-bass, Dave takes metal drumming to a new level. He never goes so out there that it just sounds weird or just doesn't work. He always finds an interesting way to still make it groove and adds the double-bass in the just the right spots to make it just that much more powerful with devastating dynamics.

Shawn (percussionist) adds an element of raw power to the band. Many times when Dave is doing complex fills and interesting beats, Shawn keeps things simple to effectively keep the groove going. Shawn is amazing on stage. He uses his drum stands as launch pads to catapult himself into the air. He also lifts his sticks over his head and really loves to let out his aggression by attacking his drums! Shawn has also been my partner working on all elements of artwork for the band. He literally spent over 100 hours with me last year critiquing all of the artwork for our CD cover, CD art/lyrics booklet, posters, shirts and stickers. We also teamed up to build the Scorch merchandise display. Shawn has a very detailed eye for art and presentation for the band. The band's professional look would not be the same without him.

Todd (percussionist) brings a technical and schooled approach of drumming to the band. Todd plays many drum solos when Dave is doing normal grooves. It 's quite unique to hear a drum solo (versus a guitar solo) while the main drum groove is still going. He knows exactly how to add the off-time kind of beats to enhance and change the feel of the song. In addition to his technical drumming, Todd is a wizard when it comes to computers. He helps design and maintain our web site, as well as solve computer problems in and out of the recording studio.

Aaron (bass) has a very excellent ear for critiquing our songs while recording and during live performance. If something doesn't sound quite right, he always points it out. Aaron has also been a real team player. After many months of not being able to find a bassist, he volunteered to switch from guitar to bass guitar because he knew that the parts were technical enough that a normal bassist wouldn't be able to play them. This really helped us out because we were finally able to play out as a 6-piece. During live performances, Aaron keeps things interesting by flying around the stage on his wireless while most everyone else is tied to drum sets or mic stands.

Kevin (guitar) is one of the most talented musicians that I've ever jammed with. Not only does he catch on to almost every guitar riff almost instantaneously, he can play advanced Cradle of Filfth keyboard parts and old skool Slayer drums with ease. Even more amazing is that he is this musically advanced and is nearly ten years younger the rest of the band.

IMWT: What sector of new music enthusiasts does SCORCH appeal to most?

Russ: Metal, in its purest form. It's not alterna-metal, black metal, industrial metal, gothic metal, or any other metal sub-genre. If it had to be labeled, I would call it a mixture of speed/groove metal.

IMWT: What styles of music have had the most influence upon SCORCH?

Russ: Our music falls into the same category as bands like Pantera, Sepultura, Slayer, Machine Head with a hints of Fear Factory and Cradle of Filfth.

IMWT: Please describe for us background insights for songs such as "Remember"; "Face"; and "Psycho".

Russ: Remember, as an older family member passes away, childhood memories are triggered. Looking decades back on the guidance and influence provided by this loved one, a hole once filled suddenly becomes empty. Infuriated by this passing of life, only regrets are recollected. Eventually nothing is left but the reality of death and the inevitable past.

Face: If you listen closely, you will see that this masterpiece's sections are arranged in the form of a mirror with the beginning and end of the song imitating each other. This plays on the theme of the song: When a frozen spirit becomes lost in his own world of disillusionment, he can no longer reflect on the truth and is blinded by his own thoughts. Continuing forth alone, lost between the clouds above and the underworld, he continues on his quest for answers. This nine minute title track off of the debut CD includes over a half dozen riffs, multiple dueling solos and drastic tempo changes, fulfilling all of your metal needs!

Psycho: Sculpted by an unforgiving society, a normal man becomes institutionalized in his own mind. Attempting to keep his sanity, a 'never say die' voice comes from inside of him and takes over his subconscious. When no one can feel what he feels and all his words seem to go unnoticed, eventually an unparalleled mind takes a turn for the worse. Despite his capacity to think clearly and his internal organs deteriorating, his unprecedented state of mind is feared by all.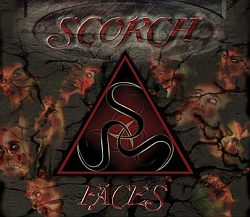 IMWT: When & Where can we pick up copies of your new album, FACES?
Russ: Our CD release date is February 10, 2003. We are setting up consignment with several stores in Detroit. We are also arranging consignment at independent record stores in the other cities that we will be touring in the midwest. And, of course, it's available on our web site and through CDbaby.com.
IMWT: On which compilations does SCORCH plan on making musical appearances?
Russ:
1) Brave Words & Bloody Knuckles (Canada)
2) Epitaph (Detroit, Michigan)
3) Meathead Records (Canada)
4) Making our own Scorched Metal Productions Compilation CD with other mid-west metal bands.
IMWT: When does SCORCH plan on hitting the road to perform for the masses of metal maniacs?
Russ: We plan on touring regionally immediately after the release of our CD. We aim to play in several major cities through Michigan as well as Chicago, Milwaukie, Pittsburgh, and Cincinatti (just to name a few) within the first couple of month of our CD release.
IMWT: Describe something memorable from past live SCORCH performances.
Russ: At Paychecks, when I jumped off of the stage and was in the middle of the mosh-pit while singing the song "Explode".
IMWT: What may we expect next from SCORCH-ing live shows?
Russ: We recently hired a lighting company (who has worked for such acts as Slayer & Alice in Chains) to do lights, fog, lasers, etc at our bigger shows. Adding these lights/effects to the wall of 15 toms, 2 snares, 2 bass drums, and our custom made 6-foot metal Scorch sign across the back of the stage will surely be a sight to see!!! Plus I try to keep things interesting by having a few songs where I play guitar for only a portion of the song or not at all. This keeps things more diverse (versus being tied to the mic stand at all times).
IMWT: What more may we missing from music on FACES that you would like to draw attention to now?
Russ: SCORCH is breathing fresh life into a new realm of metal for fans everywhere. The drum section ranges from an onslaught of overlaid and accented rhythms to an all-out simultaneous wall of pulverizing percussion including THREE DRUMMERS - a army of 2 snares, 2 bass drums and 15 toms!
Two seven-string guitarists cover the entire metal spectrum including heavy and intricate riffs, melodic solos and a few moments of clean eerie tonality. The vocals range from harsh yet understandable screams to clean yet clenching melodies.
IMWT: Please describe any special features available via SCORCH website at www.scorchedmetal.com.
Russ: All merchandise on our web site comes with FREE SHIPPING! We are throwing in a FREE poster and a FREE sticker for EVERYONE who buys a shirt directly through us! We also have the Insights and meanings behind all of our songs on our web site.
IMWT: What will SCORCH accomplish next in unleashing music now recorded on FACES?
Russ: We plan on opening up for national bands in Michigan and neighboring states in the near future. Also, we are actively involved in cross promoting and forming metal alliances not only in Michigan but with other regional metal bands as well. Our first break is opening up for KITTIE & BIOHAZARD at Harpos in Detroit on Saturday, January 25th, 2003!