INTERVIEW: Creeper Lagoon
The Rise, Fall, and Rise of Creeper Lagoon
By: Alex Steininger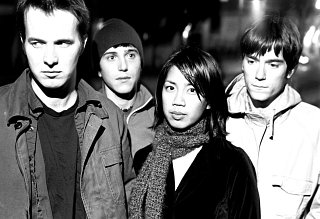 "I got a nasty e-mail from someone about carrying on as Creeper. But I don't feel like I'm pulling a fast one over on anyone because I did put out a few records under the name Creeper Lagoon before those guys were ever in the band." Sharky Laguana, the front man for the reconstituted, retooled and reprioritized Creeper Lagoon, gives a firm self-defense as he talks on his cell phone, taking a break from a band practice in preparation for a West Coast tour.

Sharky hasn't had the easiest couple of years since the San Francisco band's Take Back the Universe and Give Me Yesterday was released on Dreamworks. Buzz band status, a major label release, lots of critical praise - you would think that everything would be coming up roses for Sharky and his band. But following the release of the band's major label debut, Sharky soon watched the rug being pulled out from underneath his feet.

While he won?t go into detail about the breakup of the band, it is well known that vocalist Ian Sefchik went on a downward spiral due to drugs. The remaining members, with mounting tension, walked away, leaving Sharky to pick up the pieces.

"I was devastated when the band went kaput and I didn't know what I was going to do, so I got a bunch of shitty jobs," recalls Sharky. "No disrespect to Ian, but just because he sang on songs I wrote, people think he wrote the whole record. But it wasn't like that. I think I contributed more than people realize, but I don?t care.

"Music is what I do. There was no real question of me not doing music anymore, the only question was if I would carry on with Creeper or not. I wasn't ready to be a solo guy because I like collaboration. If everyone hates me, that's what they're going to do because I'm carrying on as Creeper Lagoon."

Turmoil is nothing new to Sharky who, unbeknownst to many Creeper Lagoon fans, founded and fronted the band's early incarnations, handling lead vocals himself, well before Ian and others joined.

"I'm a pretty bad vocalist," admits Sharky. "I'm not sure what I'm doing, but here I am, doing lead vocals again. I can't get my brain around it, the collapse of everything. It was so arbitrary. We weren't fighting about money or anything lame like that. I can't dwell in the past. I want to just put it in the rear view mirror and move on."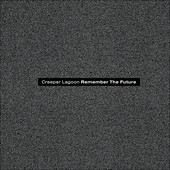 And move on is what Sharky did. Bouncing around some truly tedious jobs - at one point working at a company where his job was to take CDs out of jewel cases - he eventually landed a part-time gig at a local studio. It was there he began working on what would become Creeper Lagoon's Remember the Future EP (Arena Rock), a CD that boosts the band's new lineup and Sharky on vocals.
"I would sneak into the studio late at night and record songs. I'd record parts at home and bring them into the studio and work on them there for free," recalls Sharky. Sharky's only goal, stripped away of any expectations, was to release a record that made money for once.
"One thing I told myself I wasn't going to do was rely on anyone else to make this record. No borrowing money, no looking for advances. That was an early barrier I set up. I wanted to, for once, make a record that made money," he says determinedly.
Once the record was complete, he began working on forming a band to play the songs live. The former members of Creeper Lagoon were supportive, though Sharky is quick to point out that he thinks they would have been happy should he have failed.
"There was an element of 'let him hang himself' with the other members of the band," he says, unfazed. "If I flopped around like a dead fish I'm sure they'd derive some satisfaction from it, being human nature and all. But they've been nothing but supportive.
"It's a darker, more mellow record that I originally had in mind," Sharky says of the EP. It may be darker, but it is by far the most optimistic Creeper record to date.
"What I came away from this with is that the funny thing about music isn't what you consume or others want to consume, it's about staying true to what you want to do, which is easier to say than do. To me, that's what the EP is about, thinking about ways to make the future better and being real to yourself."
We're going to get our feet wet with the whole thing. I'm a little nervous about it all," he confesses. "I don't want to piss people off and have them pay money for a different band they want to see and end up seeing this line-up and be disappointed. So I'm doing press and everything to get the word out before we tour. I definitely don't want anyone to throw bottles or anything."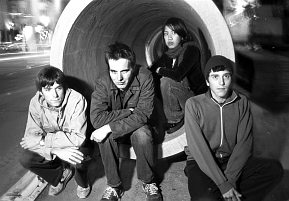 Creeper Lagoon is technically still signed to Dreamworks, which makes Sharky laugh.
"It's true, I'm still on Dreamworks for the moment, but I can't imagine them wanting to put out any serious money after losing so much on the last record. They were generous and recently sent out a press release to Billboard that someone forwarded to me. It was a nice press release reaffirming that we're still on their label. I think they are just hedging their bets in case we blow up. They want to still own it, and I can't fault them for that, because if I put a million-dollar investment into something, I would, too. They're nice people, I like them, and would still love to be on Dreamworks, but I don't think it is worthwhile for them and I don't think they think it is worth their time for now."
Pausing for a moment, he sums up his music business experience in the past few years. From signing the promising record contract to everything being taken away from him in the blink of an eye, with two sentences he wipes away any ambition he might have had, "I just don't see myself making a living off of music now. It seems to be a bit too unobtainable."
I was brought up with the adage "When you least expect it, good things come to you." Maybe the past few years have been a dress rehearsal for the good things to come for Sharky and Creeper Lagoon. Let's hope so.