Sullen
Paint The Moon (Sullen Music)
By: Alex Steininger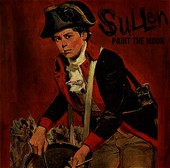 St. Louis Trio Sullen, fresh off a tour with Local H, have released Paint The Moon, a ten song collection of powerful, moving loud rock songs, bursting at the seems with noisy guitars, chunky bass, and plenty of crashing drums.

Fronted by guitarist/vocalist Justin Slazinik and guitarist/vocalist Shanna Kiel, the songwriting duo takes the indie-rock boy/girl vocal trade-off to the outer limits and back, going from Slazinik's scream to Kiel's snarl.

This is modern rock with a voice, a free-thinking, bash-it-out style that has the feel of a band that could succeed on the radio given the right producer, the chops to pull it off, and the independence to not bend itself, or its principals, just for a hit. This is the band you wish was all over the airwaves instead of Creed. I'll give it a B-.