The Rutabega/Owen split EP
Near and Far Volume 1 (Backroad Records)
By: Alex Steininger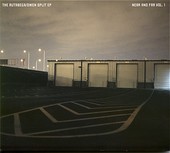 Near & Far is a project of three split EPs between Indiana artists (Near) and non-Indiana artists (Far). Representing Indiana on Volume one is The Rutabega (aka Josh Hensley); representing the non-Indiana artist portion of the disc is Owen (aka Mike Kinsella). Together the two of them deliver three whispery lo-fi singer-songwriter numbers each.

The Rutabega's songs are nothing special, your average guy and guitar indie songwriter fare; he has something on his mind, whether it is girl troubles or dilemmas in life, and he wants to share it with you.

Owen's three songs, however, are delicate melancholy. They're melodic, light, and airy, the kind of sensitive guy-and-guitar set-up that made the sub-genre so popular. And here Mike Kinsella demonstrates why. Refreshing lyrics, digestible intensity, and a personality you can relate with.

The Rutabega's songs would grow on you, had Kinsella's songs not followed them. Since they do, you automatically can say you've heard better and skips to songs that are better prepared and more thought out. I'll give this a C+.