e44 The Mountain Goats
Tallahassee (4AD)
By: Alex Steininger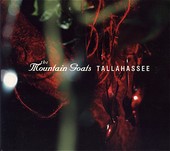 The story of a troubled marriage and the couple that moves to Tallahassee to get away from it all, and themselves, and their eventual downfall as they drink themselves to death. John Darnielle's latest release under the moniker The Mountain Goats, Tallahassee, strips away the tape hiss of their primitive cassette-only releases (which used the tape hiss as an instrument) and provides a pristine narrative. The crisp acoustic guitar and moderate accompaniment, which never overshadows or leads the acoustic guitar, preferring rather to back it up and follow its footsteps, provide an ample sound to boost Darnielle's literate tales. You follow him through the peaks and valleys, celebrating the highs and lows, before the end comes crashing down.

While on the journey with Darnielle, the sparse, but anything but whispery acoustic guitar lends a helping hand to the tale. Though no matter how much Darnielle and The Mountain Goats go beyond the strictly lo-fi approach of their humble beginnings, there is only so much you can do with an acoustic guitar and varying instrumentation filling the air in the background. And, he does it all, going as far as he can go, still relying on his tales to carry the songs, still hesitant to let the music dictate the music. But this is how The Mountain Goats shine, as the clean Tallahassee proves. Without the dirt and grit to influence or cloud the songs, it is Darnielle's storytelling all the way and here is one CD, like a good book, you won't want to put down. I'll give it an A-.