Various Artists: How We Rock
Rock 'N' Roll Insurrection! (Epitaph Records)
By: Alex Steininger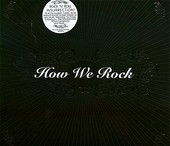 Epitaph's nineteen tracks of rock 'n' roll, How We Rock, is a who's who of real, loud rawk music. Coupled with very appealing packaging (a digipack with a full color booklet and lots of expensive silver printing), Epitaph scores, and rawk fans win too if they pick up the CD.

Spanning the globe, How We Rock brings us The Supersuckers ("Shake It Off"), Rocket From The Crypt ("Straight American Slave"), Gluecifer ("I Got A War"), The Hives ("Main Offender"), Electric Frankenstein ("NY Knights"), and Sahara Hotnights ("Alright Alright (Here's My Fist Where's The Fight?)"). Others include The Donnas, Zeke, New Bomb Turks, and The Hellacopters. It's expansive and doesn't miss a beat, offering up nineteen consecutive rock bombs. I'll give it a B+.