INTERVIEW: Mind Frame
Hard Rock Kids (Mind Frame's Web Site)
By: Sonya Brown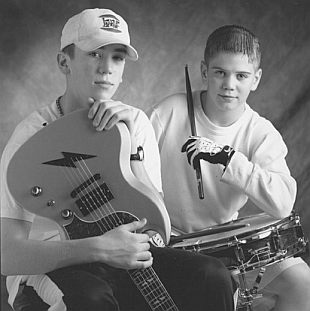 If the motivation of the boys in Mindframe doesn't get you off your butt - then their music certainly will. Brothers Cameron and Brett Byrd, of Camas, Washington, founded Mindframe, and donate almost all of the money the band makes to help search for a cure for breast cancer. They have a personal reason for their cause, at the age of 14 and 12 (respectively), Cameron and Brett lost their mother, Carol, to breast cancer.

So why have I not heard the music of Mindframe until just today?? Serious musicians, though very young (both boys are still in high school), Mindframe combines guitar rock, rap, melodic harmonies, and meaty lyrics to raise consciousness through their music. These boys rock for their cause, and they are looking for a label!

In Music We Trust speaks to Mindframe.

Please introduce us to Mindframe - please list your current line-up.

MINDFRAME: Cameron Byrd, Brett Byrd, John Young, and Travis Shoemake.

IMWT: What are you looking for in the label that will ultimately sign Mindframe?

MINDFRAME: We've talked to a couple of different labels, but don't really know much what to expect.

IMWT: You entitled your first full length, "CLH". What does this mean?

MINDFRAME: The CD was named after our mother Carol Lee House

IMWT: Cameron, the lyrics to the track, "I'm OK", are so incredibly personal. Please tell our readers more about your experiences with writing this track.

MINDFRAME: I wrote this so Mom would know that we are OK, that we miss her and wish she was still here.

IMWT: While raising awareness for the Susan G. Komen Breast Cancer Foundation (http://www.komen.org), you performed on the Rosie O'Donnell show, after which she presented you with a check from AskJeeves.com (http://www.ask.com) for $150,000 towards your goal. Please tell us more about this experience - meeting Rosie, performing in front of a national audience, etc.

MINDFRAME: Going to NY was really exciting. Rosie was great. Being on TV was not new to us, so it was not frightening.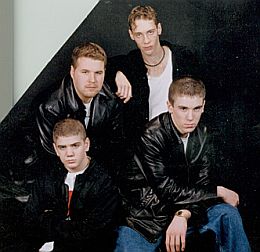 IMWT: How much money has Mindframe raised for cancer research as of this time?
MINDFRAME: $400,000
IMWT: What other events are on the horizon for Mindframe?
MINDFRAME: Having our new CD party and being in the January, 2003 Family Circle Magazine.
IMWT: When not making music, what else do members of Mindframe do to occupy their time?
MINDFRAME: Travis is a college freshman and John does music, music, music.
IMWT: What else would you like to talk about?
MINDFRAME: We love performing. It is a lot like playing sports. Unfortunately, we can only play on Saturday & Sunday nights because of school and school sports. Cameron is the starting point guard on his H.S. basketball team & an all-star outfielder on his H.S. baseball team. Brett is the starting point guard on his H.S. JV basketball team & an all-star second baseman on his H.S. baseball team.