Cirque Du Soleil
By: Chad Roskelley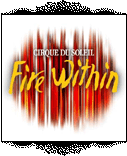 If a picture is worth a thousand words, then a motion picture at twenty-four frames per second, running for two hours would be worth roughly one hundred seventy-three million words. I don't really have the time to write that much, nor should I imagine you have the time to read that much, and to make the above even more irrelevant, I'm not even talking about a motion picture. What I am speaking of is Cirque Du Soleil's Drallion, a live combination of theatrical, musical, and physical art; that in person, far surpass the visual and aural capabilities of any two-dimensional media.

This being my first Cirque Du Soleil experience, I wasn't sure what to expect. It was rather warm outside, so much to my relief; I found the tent to be air conditioned. The show started out with some clowns walking around the crowd, interacting with people and making fun of everyone within two feet. Of course, these aren't your normal BoBo type clowns--think international clowns with bad hair, speaking some sort of Italian gibberish. Yes, that's another point to bring up, I didn't understand a word the clowns said--of course when they're making fun of you, English is apparently, not necessary. The clowns remain a constant part of the show, usually coming out and displaying their unique brand of hijinks during major set, cast, or theme changes. The dancing and often intertwined physical acts basically stole the show. While the music was great, it didn't quite hold a candle to the stunning visuals. I'd recommend, if you really want to appreciate the Drallion soundtrack, pick up the CD. It wasn't until listening to the CD at home, that I was able to reflect on how great the music really was.

All together, the music and visual effects combine to create a one of a kind feast for the eyes and ears. If you possess either eyes or ears (or preferably both), you can't go wrong treating yourself to a night of Drallion's artistic indulgences. Since Drallion is one of Cirque Du Soleil's traveling shows, check their website at www.cirquedusoleil.com to find out when or if they're coming to your town.