Setting Sun
Holed Up (Young Roaster Records)
By: Alex Steininger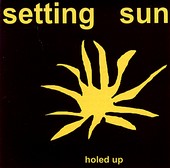 Having read "sounds like Tom Petty, Elliott Smith, and Nirvana" on the envelope, I opened up Setting Sun's package, if only out of morbid curiosity. A fan of all three aforementioned artists, a mixture of them seemed somewhat odd, or rather something hard to capture.

Tom Petty's southern rock meets Elliott Smith's stark lyricism, coupled with Nirvana's post-punk that took record labels and radio stations by storm. Somehow, if someone were able to combine the three, the outcome would be revolutionary.

However, Setting Sun's description, as most would have guessed, is quite off the mark.

Though their songs do have the feel of Elliott Smith's home recordings, the cheap, minimalist, home spun approach that helped Smith's lyricism and natural melodies shine through without anything standing in their way, they lack the talent and technique of Smith. Instead of sounding genius, like Smith, they sound demo-ish and incomplete.

As for Petty, front man Gary Levitt's voice does, at times, touch upon the Southern grit and snarl of Petty's, but that's as close to Petty as Levitt ever comes. And Nirvana, beats me? Nothing in these recordings pointed a finger at Nirvana for me.

When all was said and done, Setting Sun's record disappointed me, coming across as just another batch of home recordings from a wanna-be Elliott Smith trying, without success, to do what the plainclothes man can do like no other.

But, after listening to the record a few times, it grew on me a bit. The drums sound tin-y and need to be re-recorded, some of the vocal performances are flat and/or off-key and should be re-done. The flow and emotional value, the lyrics and the melodies-in-the-rough, however, are promising and hint at Setting Sun recording something that, someday, may just make a few people feel weak inside when they hear one of their songs. I'll give it a C-.