Rm 101
Half of What You Wanted (Indecisive Records)
By: Sonya Brown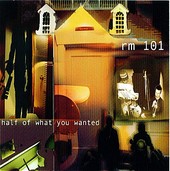 Portland, Oregon is the new home to the boys in rm 101. Originally from Madison, WI, this 5 piece jazzed-up rock band moved to Portland in 2000 to "participate in the scene and work restaurant jobs". And the scene can use the fresh, soulful sounds of rm 101. Dreamy guitar leads into polished melodies, and instantly from the opening track "Straight Line", the listener is held captive in rm 101. This is a clean CD, rm 101 seems to know where they are going, and how they want to get there. Trumpets! What a very nice touch, not something you hear every day. Every track on Half of What You Wanted has something unique to offer listeners. The title track sounds much like wandering in on a professional jam session, while "Call it a Hunch" is dreamy, dramatic and soulful, giving full display to the power of Joshua Vasby's vocals. Listening to rm 101 reminds me that it's high time to hit the indie rock clubs again and check out the new boys in town. Looks like I'll have plenty of opportunity, rm 101 has a full live schedule lined up at such Portland hot spots as Ash St, Berbat's, the Blackbird, Satyricon, Tonic Lounge... well, you get the idea. Restaurant jobs or not, these boys do seem to play around! Check your club listings and get out there and join rm 101 and "participate in the scene". Judging from Half of What You Wanted, you won't be disappointed.

Track List:
Straight Line
Dirty House
The Hoax
Half of What You Wanted
Said Too Much
Call It a Hunch
Well Then, Alright

Half of What You Wanted gives you more than what you expected. Give the boys in rm101 an A.