Owen
No Good for No One Now (Polyvinyl Records)
By: Alex Steininger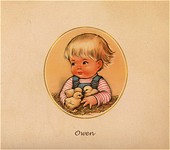 On the follow-up to 2001's self-titled debut, Mike Kinsella (aka Owen), has recorded another gem with No Good for No One Now, a seven-song full-length filled with the same weepy acoustics and heart wrenching melodies of the debut.

Kinsella's unbridled passion comes alive as he strips his songs down to man's emotions and instrumentation, writing songs around the acoustic guitar and then flushing them out, ensuring the songs retain their primarily voice and guitar structure.

His late night, still buzzing from the coffee and alcohol tenderness opens him wide up, the rawness exposed for you to hear as light percussion and bass fill out the gentle sounds of fingers against an acoustic guitar, Kinsella's voice ready to break down into tears at any moment. Somehow, though, he keeps it together for the duration of the album, struggling through his own pains so you can relate and feel the therapeutic abilities of his music, the same thing he is doing as the record unfolds. I'll give it an A.