Jackass
The Movie Soundtrack (American Recordings)
By: Alex Steininger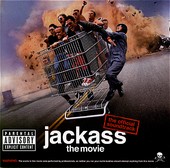 With everyone from Andrew W.K., the Ramones, the Minutemen, and the Sahara Hotnights, to Sir Mix-A-Lot and Slayer, the diversity of this soundtrack mirrors those of the extreme stunts performed by Jackass Johnny Knoxville and his crew.

The first single, Andrew W.K.'s "We Want Fun" is the anthem everyone who loves a good party and rockers alike, a shout out to not waste your life and to have fun, the perfect compliment to the movie Jackass. A movie that is about doing things for kicks and a song (as well as an artist) that represents these same qualities.

Moving along with The Minutemen's "Corona", The Ramones' "California Sun", and the Sahara Hotnights' "Alright, Alright (Here's My Fist Where The Fight?)", the party never ends. Throw in The Smut Peddlers' "Let's Get Fucked Up", Slayer's "Angel of Death", and Sir Mix-A-Lot's classic "Baby Got Back", and you have a sure-fire soundtrack hit.

Included with the musical CD is a bonus DVD for you to enjoy. Watch and hear the madness take place. I'll give this a B+.