Various Artists
Plea For Peace - Take Action (Asian Man Records/Sub City)
By: Alex Steininger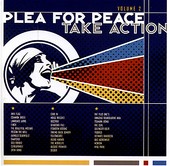 A benefit album for the National Hope Network (1-800-Suicide), Sub City and Asian Man Records have teamed up to release a 2-disc who's-who of the underground punk, hardcore, and emo scene.

From Anti Flag, Common Rider, Lawrence Arms, and Cave In, to Ultimate Fakebook, Piebald, and Mike Park solo acoustic, the 2-disc set delivers 32 tracks of music that will deliver choice cuts from your favorite artists. You'll also get to expose yourself to artists you may have not heard before.

Hearing Tsunami Bomb's "El Diablo", a hard-edged pop-punk piece, Ultimate Fakebook's crunchy rocker "When I'm with You, I'm OK", and Piebald's brand of melodic hardcore-rock on "American Hearts" make this disc worth your listening time. I'll give it B.