INTERVIEW: Clinic
Liverpool's Other Fab Four (Domino Recording Company)
By: Alex Steininger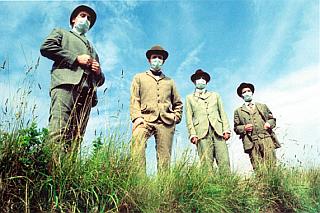 They hail from Liverpool, and they're a four-piece, but that's as close to The Beatles as Clinic gets. With their sophomore full-length, Walking With Thee (Universal Records), the band demonstrates a different kind of genius. Not completely abandoning The Beatles' harmonies and stunning melodies that were everywhere when the band members were growing up, Clinic takes pop into a new direction, incorporating punk, New Wave, and plenty of dark, atmospheric grooves to unsettle even the most creative of souls. But to the band, it's simply rock 'n' roll.

In 2000 the band released its debut, Internal Wrangler (Domino), which demonstrated rock chops and such influences as Suicide, Velvet Underground and The Beatles. It earned the band a tour with Radiohead, a John Peel session, and found them at the top of nearly every critics' top ten list.

The 2002 follow-up, Walking With Thee, also released on Domino, was a record that expanded on the band's sound, taking on a darker, more atmospheric style that used space, not noise, as its engine. To support it, the band embarked on a U.S. tour for the first time, playing to sold out crowds at nearly every stop.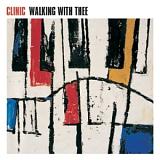 Walking With Thee was licensed by Universal Records for U.S. release amidst critical praise and massive fanfare. A second tour followed and the crowds had doubled or even tripled in size in some markets. But for the four members of Clinic, they take it all in stride, realizing that it all can be fleeting.
"We never set any type of goals for ourselves or anything like that," says bassist Brian Campbell, a little shocked himself at the massive turnout of each show on their second U.S. tour. "We just do our thing and whatever happens, happens. When you do that, you're always surprised, because you have no expectations. But if you have expectations, it's so hard, you become disappointed when what you expect to happen doesn't - the European press gets jealous when you start to succeed. In Britain the minute you taste success, they try to cut you down. They may love you and support you when you're not that big, but when you start growing to a certain level they turn their back on you and hate you."
Clinic has made quite a name for itself, playing all the big European festivals, including Reading, and selling out venues big and small no matter where they go. And one of the things people have come to enjoy is the live show, in which the band members dress up in surgical gear - scrubs, gloves, and facemasks.
"We have a friend who works at a hospital," Campbell informs me, "but I won't tell you his name, because I don't want to get him in trouble. Up until recently, he would get us the supplies we needed. I mean, you can't just go in to a convenience store and buy medical gear, so he would stock us up. And if we ran out, well...," he trails off, before telling me about one such incident.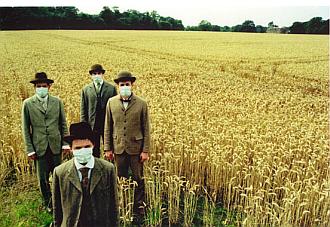 "People get pissed when we don't wear our costumes. We played a gig without our costumes once, because we ran out of supplies, and people didn't like it. It's like they were being ripped off, like they weren't seeing the full Clinic show because we were in our street clothes.
"Recently, though," he proudly reports, "we heard from a fan who works at a medical supply distributor. He sends us the supplies we need, so hopefully we'll never run out. It's definitely great to have fans like that. Now we're covered."
Even before the band tasted success in the U.S., a wave of hype in Britain helped fuel a bidding war for Internal Wrangler.
"We just thought about recording a record on what little money we had, sent it to a few record companies, and never thought we'd hear back from any of them," Campbell recalls. "Then a bunch (of labels) came our way, including major labels, but we liked Domino the best because of their roster and because they really believed in us. They couldn't offer us the money the majors were, but they absolutely loved us, and we loved what they were doing, so we went with them.
"The first thing the others started talking about was money and units. Domino started talking about the music. We could have gotten a bigger paycheck, but we went with the person who understood the music the best."
Two albums into their career, and with an ever-growing international fan base, the band feels they made the right decision.
Walking With Thee, the record that has helped propel the band further into the minds and hearts of music lovers, came along a lot quicker than Internal Wrangler. After the band spent over a year working on Internal Wrangler and self-financing it, Walking With Thee was done in under a month.
"Walking With Thee, we recorded it within two weeks," Campbell says with pride. "We went into the studio and recorded. If it sounded great we kept it.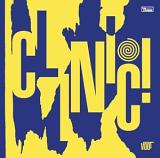 "With Internal Wrangler we spent a lot of time on it. The spontaneity of Walking With Thee, I really like that. Instead of working on it over a year's time, we just hammered it out and let the songs take their own direction and go where they wanted to go."
The band's next dilemma: Presenting the new album in a live setting.
"Live, we can't pull off a lot of our songs," admits Campbell. "We could, but we'd either need to bring extra people on the road with us or we'd need to take out things like the samples and extras, the things that really make the songs. So we have a set list (of songs) we can play live. Because of this, we keep our live shows short. We'll do an encore if the fans really want it. But we play most everything we can up on stage and don't hold a lot back, because the rest we can't play live without losing big parts of the songs or bringing more people on the road, which we can't afford to do now."