INTERVIEW: Barrett Martin (ex. Screaming Trees)
Rock Drumming To Soundtracks and Instrumentals (Fast Horse Recordings)
By: Alex Steininger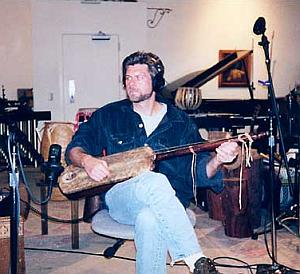 Drummer Barrett Martin, formerly of the Screaming Trees, now percussionist for Tuatara and Wayward Shamans, is a busy man. Besides playing in two bands, he's also president of Fast Horse Recordings, a label he owns with Wayward Shamans member Joe Cripps. The label recently released the debut for the Wayward Shamans (Alchemy) and Tuatara's third album -- and first non-major label release -- Cinemathique.

"Fast Horse Recordings started in September of last year," Martin informs me. "It took us a while to get the whole apparatus in motion. We have distribution through Ryko and they've done a tremendous job. I really wanted to work with them anyway, because they've put out so many recordings that I've actually bought, like Library of Congress field recordings and weird stuff. As far as distribution goes, they're independent, but have a lot of muscle. They can get you in where others can't. Also, with Ryko I feel like nothing slips through the cracks, that they're small enough to give everything some personal attention, but not small enough where you don't get things done."

When we start discussing the label's vision, Martin, a refugee from the major label system that has catapulted some of his friends to the top of the charts while forcing others to succumb and break up under enormous pressure and expectations, has a lot to say. The chance to run his own label, releasing not only his own music but also the music of his friends, is a chance to bring artist development back into the realm of a label's duties.

"We want to do it in a way where we don't spend a lot of money like majors and waste it, but put enough behind it so it can get in front of people," he says of his marketing strategy. "I learned what not to do being on a major label. I think majors are good for some bands and some types of music. But they have no quality control. At one time majors were quality control. If you made it to that level, you deserved a listen. Now days, it is not like that at all. Not everyone with a band deserves a record deal. It's all watered down on the majors. 75 percent of the time I'm disappointed in almost every major label release I buy--it's too over-produced, or the music is too slick and bland. I look at it and there is a major label logo on it.

"Some of these majors used to be independent labels. They were great because they knew the bands; they developed them and worked with them. Then some parent company bought them out and gave everyone with experience and taste in music a buy-out package for early retirement--they're gone, replaced by people who don't have a music collection, people who are in suits and only see money. It's not about the music to them.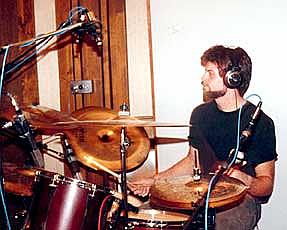 "With Fast Horse, it's not just about doing the music we like, it's about doing it right, which means all aspects of it. It means doing it with integrity and honesty. We have the right distribution company, we have a great publicist in Barbara Mitchell, and we have an office. Our mission statement is that we won't put out a lot of records but we'll put out good stuff that you need to hear, the kind of records that others may not want to put out, but music that is great and needs to be heard."
We start to discuss the formation of Wayward Shamans and Fast Horse, both collaborations of Martin and Joe Cripps, who met in Cuba in 1999 as part of a diplomacy mission between the United States and Cuba. It was a musical exchange that yielded a great return. Cripps, a Grammy winning percussionist and Martin, a Seattle grunge veteran, instantly hit it off and began writing songs together.
"Joe and I did a soundtrack for an independent film, Lush, which just came out on video," recalls Martin, discussing their first collaboration. "That was our first recording session and that led to, 'let's make an album.' We then started working on the first Wayward Shamans record and then got recruited to play in a Brazilian band, so we lived in Rio for three months.
"Our keyboard player, Alex, was also in the Brazilian band. Alex and I lived in Rio and Joe came down for about a month. We played around town and met all these Brazilian musicians. We came back and finished the Wayward Shamans record, and I finished the Tuatara record around the same time. Matter of fact, I mastered the Tuatara and Wayward Shamans records within two weeks of each other."
Of the differences in songwriting methods between Wayward Shamans and Tuatara, Martin reveals, "With the Wayward Shamans a lot of the songs were inspired by the field recordings we did. We brought that into my home studio and I would play the rhythm and get melodic ideas. It's kind of interesting how a rhythm can inspire a composition. In Africa, that's what it's all about. The drums are the heartbeat, the rhythm. The voice is the expression. As a drummer, I recommend everyone go over there, every drummer at least. You have to see it and feel it and then you know what it is all about. That's how the Wayward Shamans' record was written, completely inspired by those rhythms."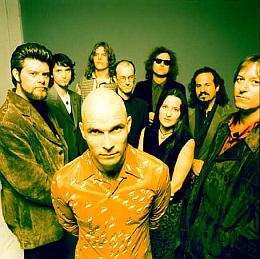 With Tuatara, however, he explains, "it's a collaboration. It's a composers' collective. I always have extra ideas left over from soundtrack stuff and Peter (Buck, R.E.M. and Minus 5 bassist, also in Tuatara) always has song ideas. Actually, a lot of the new Tuatara is based on demos we did for films. Ideas Peter had that didn't make the films or the final cut. We'd do demos and get visual images and over the course of time, the last couple years, the record accumulated over all these ideas we all had and that we collectively worked on together.
Cinemathique has less tracks than our previous releases," Martin tells me. "There are not as many instruments, but it is a very full-sounding record. We worked on the compositions more. Each part is in the right place and they interlock, they are appropriate when they happen. It's not just layers upon layers. We wanted to make it more ambient, make it a more textural record. A lot of that has to do with Peter and Scott (McCaughey, he of the Young Fresh Fellows and Minus 5, as well as Tuatara), who played more guitar on the record than they did on the previous one."
Applying the Tuatara method to Wayward Shamans, using the band as a collaboration rather than a singular vision, Martin hopes the next Wayward Shamans project will be much more a collective, rather than consisting solely his musical ideas.
"The next Wayward Shamans record is going to be more collaborative. I think band compositions are the best. I mean, everyone once in awhile a guy writes a hit and it's good, but for album material and longevity, I think band compositions are the way to go, so I'm excited about the next Wayward Shamans record."
What's next for Martin and Fast Horse? Tuatara and Wayward Shamans recently set out on tour. Cedell Davis, a 74-year-old Mississippi Delta blues legend recently signed to Fast Horse, and Minus 5 also went along on the tour. Dubbed the First Annual Fast Horse Hootenanny 2002, it showcased the diversity and power of what Martin, and Fast Horse, are all about. Playing over four hours of live music a night, with little more than a five-minute change over between bands, Martin proved what a hard worker he really is.
Looking toward the future, Martin couldn't be happier. "Coming up we have the Cedell Davis record, a Tuatara remix record and a record by a Brazilian singer named Mylene Nunes," he reveals. "I had no idea it was going to be this much work. I love it and it was what I was cut out to do my whole life. But man, it is a lot of work. The most enjoyable part is being able to write checks to musicians and say, 'right on, here's a check.'"