Rachel Gaudry
Leaving Traces (Virt Records)
By: Alex Steininger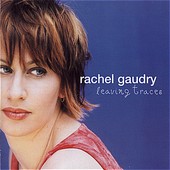 The problem I have with some female singer-songwriters is the "Lillith Fair" sound that they adhere to. Their voices are always over-polished, void of any personality or emotion. And the music is equally disappointing, rehashing the most generic of pop-rock.

So when someone like Rachel Gaudry comes along, I rejoice. Her style is pop-rock. The songs are eloquent, perfect for adult contemporary radio or a dinner party with fine china, the music seeping into conversation as it subtly strolls in the background.

Beyond that, though, the songs are ripe with emotion and feeling, Gaudry opting for slick production and well-arranged songs, retaining herself in the recording process, an art form that seems at times lost.

Her soulful voice would put even the most burning of mental pains to rest, at least while the comforting, relaxed melodies and smooth pop are there to lay them to rest.

Leaving Traces is a splendid album, the kind of record you play when you want to feel life through someone else's eyes, and, surprisingly, the kind of record your non-hip, bland friends would actually dig, too. How often does that happen? I'll give it a B+.