Jets To Brazil
Perfecting Loneliness (Jade Tree)
By: Alex Steininger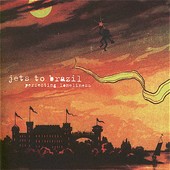 Long moving beyond being just another emo band, Jets To Brazil has nearly perfected the craft of poignant pop songs, sweeping emotions, and crunchy, angular rock. Their new album, Perfecting Loneliness is their swan song, a diverse, cohesive collection of songs that come from the same stem, but branch off and survive on their own.

"Cat Heaven" is a fine example of a pop song, equally hook-laden and tender. It bounces and it bops, sugary enough to get you singing along as you smile and move to the infectious beat. But, the melody doesn't undermine the depth, the lyrics as beautiful as the melody, creating images of love and dreams.

"Wish List", with its sweeping hooks and natural, relaxed rhythm, is the rock equivalent of a roots song, possessing the same character and urges with less Americana and more indie. It just flows so perfectly from one note to the next, it sounds nearly flawless.

"Psalm" continues on with the pop, fleshing the melody out with a piano, but adding a slightly psychedelic swirl to the airy texture.

And then you have a song like, "Autumn Walker", proving the band hasn't lost their edge, the guitars buzzing while the rhythm section keeps a steady beat.

Stripped down to the bare essentials, the light, simplistic "Further North" is led by an acoustic guitar, accompanied only by sparse instrumentation for the first half of the song. The second half the full band kicks in and the song manages to retains its fragile, simplistic nature, the vocals the glue that holds it all together.

The post-punk "William Tell Override" shakes things up a bit and again demonstrates the band's ability to still kick out the guitar-driven rock with an indie slant.

A fine display of pop and indie rock, Jets To Brazil has come along way, earning their underground popularity, progressing with each album as their songwriting matures. Perfecting Loneliness is a solid record from start to finish, different enough from track to track to keep you focused, but similar enough to make you want to come back. I'll give it an A-.