Jennifer Love Hewitt
BareNaked (Jive Records)
By: Alex Steininger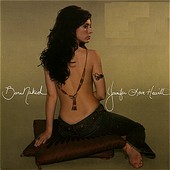 Hate it because it's the product of the sexy, teenage wet dream superstar Jennifer Love Hewitt. Right? That's your initial reaction. The pretty, big-breasted TV turned movie star Jennifer Love Hewitt could never produce anything worthwhile. After all, she's a tool. A corporate pretty face to sell advertising, movie tickets, and now CDs.

She may be a tool, a corporate whore, a pretty face, and a body to sell merchandise. But, with the right producer (enter 'Bitch' Meredith Brooks) and a lot of money (enter Jive Records), a salvageable record may come out of it.

"What?" you ask. The rocker girl who wrote the top 40 hit "Bitch" is producing (and co-writing) Jennifer Love Hewitt's new album.

"That is correct," I tell you. "She wanted to work with a rocker to give herself more credibility, so people would take her music more seriously."

"Haha, it takes more credibility away from Meredith Brooks than it gives Jennifer Love Hewitt," you respond.

Your point is noted. But, with one listen to BareNaked, the new album from Jennifer Love Hewitt, who wants to make it clear she's not some pretty pop star like Britney Spears, you'll change your mind - somewhat.

Meredith Brooks is a fine producer, able to get the best performance possible out of Jennifer Love Hewitt. And, with her songwriting on board, the bland dance-pop of J.L.H.'s past is gone. In its place you have highly produced, extra-glossy, radio-friendly pop-rock that could easily earn its way into the 40-song rotation of every commercial radio station in the nation.

The record isn't that good. The songs are stale as hell and lack any emotion, but J.L.H.'s voice is flawless, a beautiful, sensual sound that can turn the cheesiest love song into a number that will melt you, as you fall head over heels for the lovely J.L.H.

But, if Top 40 pop is your thing, his is one of the best. However, if you're looking for something with a little identity to it, this isn't your cup of tea. Still, Jennifer Love Hewitt looks sexy as hell and is trying hard (maybe too hard) to be a rock star, so give her a round of applause and at least respect her for taking a chance. I'll give this a C-.