Glifted
Under and In (Martians Go Home Records)
By: Alex Steininger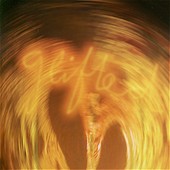 Deriving their names from the words gifted and lifted, Glifted, a studio duo comprised of former Hum guitarist Tim Lash and ex. Lovecup bassist T.J. Harrison, unleash an atmospheric debut with Under and In.

A mesmerizing collection of swirling guitars and euphoric rhythms, the trance-based, guitar-layered rock recalls the psychedelic offerings of My Bloody Valentine, while taking thins to a new level, incorporating a groove-laden vibe into every song. From the sinking "Is There Any Always" to the mind altering "Heavy Ion", and through the assault of "The Ground", they give it their all as they warp and twist your mind with layers of instrumentation and good tunes. I'll give it a B+.