Franklin Bruno
A Cat May Look At A Queen (Absolutely Kosher)
By: Alex Steininger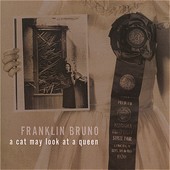 On his third solo record, A Cat May Look At A Queen, Bruno's previously metaphor-driven lyrics turn into narratives, fitting the songs perfectly. With a modest approach, Bruno's songs sound laid back, as they simmer, building with the stories, drawing you in to the point of feeling like you're part of the song.

The relaxed fit of "Tired of the West", the minimal "Bulk Removal Truck", and the jazzy "I Blame You" are three of the album's highlights, though it is filled from start to finish with high points.

Bruno's voice is simple and easy-natured, a lot of times sounding as if you're sitting down at the bar together, sharing a few beers, and a story, which goes with the flow of the music.

From lounge to pop, Bruno's songs take on their own identity with each listen, the entire album playing like an album, not a collection of songs. Like a good book, when you finish Bruno's record you want to 'read' it again, hoping to pick up on something you missed the first time. I'll give it a B+.