Flamin' Groovies
Slow Death (Norton Records)
By: Alex Steininger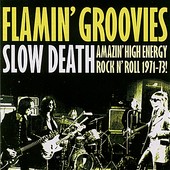 Slow Death represents the Flamin' Groovies self-produced recordings from their post-Teenage Head and pre-Shake Some Action (71-73) period. Beginning with Roy Loney's departure from the band, when lead guitarist Cyril Jordan took the reigns and rendered The Flamin' Groovies into one of the most important and influential rock 'n' roll bands to come out of San Francisco.

Armed with The Stones' "Jumpin' Jack Flash", Chuck Berry's "Roll Over Beethoven", and the unstoppable rock 'n' roll threat "Shake Some Action", The Flamin' Groovies' explosion of garage rock sounds fresh and lively twenty-five years later. From the fiery vocals to the wild rhythm section, and through the burning guitars, The Flamin' Groovies exemplify rock 'n' roll, giving us an education on how it is played, as they harness the agility of The Stones and the prowess of Berry. I'll give this an A.