The Catheters
Static Delusions and Stone-Still Days (Sub Pop)
By: Cam Lindsay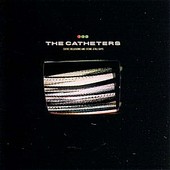 Another Sub Pop gem? But, of course. While it was only a few years ago that Sub Pop were on the brink of heading in the direction of Creation Records (which was sign a bunch of shit bands and spoil what was once heralded as something legendary), they signed all of these great bands (Beachwood Sparks, The Shins, Hot Hot Heat) and are now one of the best indie labels around (indie used in the loosest form, of course). The Catheters are not as sick as their name suggests, but they are dirty rock 'n' rollers, as far as the sound of their music goes. They even play dirty tricks on the listener with their artwork, which is all fucked and distorted, for the sake of, well, messing with your senses.

Static Delusions and Stone-Still Days is their second album (first for Sub Pop), and it's as destructive as rock 'n' roll can get. It was recorded in one helluva recording session, thant ran for 36 hours straight. Judging by the sound, The Catheters don't tire easily and they don't go by the rules. Their sound is like The Stooges with all the blood, and a bit of The Von Bondies' hip swagger and Motorhead's power thrown in for good measure.

Energetic, painful and ear-splitting, Static Delusions and Stone-Still Days is a record that aims to invoke riots and deafen the intolerable. B+.