Tahiti 80
Wallpaper for the Soul (Minty Fresh)
By: Alex Steininger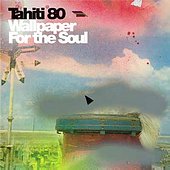 "It's a definition of all music," Tahiti 80 frontman Xavier Boyer says in the band's biography, describing the title of the Paris combo's second album, Wallpaper for the Soul. "Imagine your heart as a house. Music is a way to decorate, to bring colors to your life."

An apt description for their sophomore effort, considering that they write pop songs with more layers, more colors than your standard pop-rock band. Implementing groove-oriented rock into their lush compositions, Tahiti 80 dresses up their pop, making it look and feel completely different, in the process creating a sound that is uniquely their own.

"The Other Side", complete with string arrangements and a spacey, danceable groove. "Separate Ways" with its disco and tropical vibes, And the soul-influenced "Soul Deep". They're all a testament to the diversity, yet cohesiveness of Tahiti 80.

The horns of the latter coupled with the happy-go-lucky bounce of the rhythm section insure a song that is undeniably infectious, a number that will make you get up and dance and smile, as you find yourself singing along in no time. This is not unique though, this is par for the course, with each of the twelve songs remaining different and unique, yet pleasantly familiar to the last song.

The perfect party record that is so much more than a party record, Tahiti 80 reminds us of the healing ability of pop, how a song that makes us dance can help us forget our problems for awhile, while offering up songs with substance and frills. I'll give this an A-.