The Soft Boys
Nextdoorland (Matador Records)
By: Alex Steininger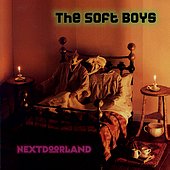 Robyn Hitchcock and Kimberley Rew, quite possibly the Jagger and Richards of late 70's pyschedelia rock in Europe, created an indescribable, yet influential sound that helped shape the 80's college rock landscape that was led by Husker Du, The Replacements, and R.E.M.

The band didn't last that long, calling it quit after only two full-lengths and a handful of 7" releases, hitting their creative peak with the 1980 release Underwater Moonlight (which is being re-released by Matador later this year). But, as the above mentioned bands will attest to, their presence was always remembered, and their influence undeniable.

The newly reformed group of all original members - vocalist/guitarist Robyn Hitchcock, guitarist/vocalist Kimberley Rew, bassist Matthew Seligman, and drummer Morris Windsor - have recorded their first studio album in more than twenty years.

Nextdoorland is the album, and though it doesn't touch upon the brilliance or memorable-ness of Underwater Moonlight, the sheer excitement of the band re-grouping, re-recording, and touring is enough to make this album stick out.

Rew's long guitar riffs and Hitchcock's unforgettable lyricism still shape and define the songs, propelling them above and beyond most of what is out there today. And the chemistry is still as alive as even, with the band clicking as much as they did twenty some odd years ago. But what is lacking is anything that jumps out and grabs you. The songs are all mild and mannered, sounding well produced and tight, but lacking the fire that The Soft Boys legacy was built on.

The guys work together perfectly, their hearts are all in it, and they seem as excited to be playing as we are to be listening. But somewhere in the equation something is missing. Maybe age has tamed them and they're not capable of recreating something that was their youth, which is not at all uncommon with reunions of this magnitude.

Still, listening to the album, you can't help want, maybe even expect, Underwater Moonlight II. You're not going to get it, but Nextdoorland is a suitable follow-up twenty plus years later, and a good album to boot. I'll give it a B+.