Sing-Sing
The Joy Of Sing-Sing (Manifesto)
By: Alex Steininger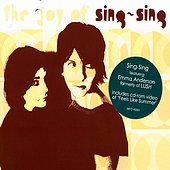 Sing-Sing is a diverse pop band that knows the power of a pop song, but also knows that standard pop can be boring. So they made sure that their album, The Joy of Sing-Sing, plays host to pop songs that have an edge, diversity and culture, but still contain the melody and hook-laden pull that makes a pop song stand out.

Take, for example, the Mexican-flavored, late-nights and dusty trails vibe of "Far Away From Love," a song that, at its core, is mid-fi, semi-lush indie-pop led by a gorgeous sounding female voice. But placed in the key spots are different cultural sounds, like the opening trumpet that gives the song its Mexican flavor.

And then you have the new wave bite of "Panda Eyes" or the slumbering, dream-inducing vibe of "Command".

The guitar-driven, lightly fuzz-pop of "Tegan" nods to the band's rock capabilities. And then you have the simmering, danceable "Me and My Friend".

All songs come together with the luscious voice of front woman Lisa O'Neill, the woman and creative force behind Sing-Sing (also the person that handles nearly all vocal tracks on the album).

O'Neill's tender voice and strong pop sensibilities, as well as her commitment to diversity and stretching herself and her songwriting abilities song to song, ensures the listener a sure-fire good time. I'll give this an A-.