Neil Finn
One All (Nettwerk America)
By: Alex Steininger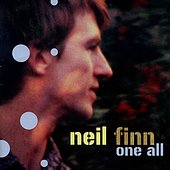 Crowded House's Neil Finn has delivered an album worthy of his name, a collection of twelve songs that prove Finn is still a top-notch songwriter, one that, even post-band, still has plenty of vital-ness to him.

His second solo album, One All, is a solid collection of pop-rock. From the guitar-based rock groove of "Hole in the Ice", a hook-laden song that finds Finn nearly screaming in the verses over a distorted guitar before transcending into a melodic pop chorus that reels you in. Half bar rock and half-effortless pop, Finn makes the two seem like an obvious couple.

On "Driving Me Mad" he offers up a mid-tempo, melodic pop song reminiscent of a late, sleepless night, blurry eyes trying to close, but unable to because there is just too much on your mind. In a soothing, almost resigned voice Finn confesses "It's driving me mad" with little hesitation.

"Secret God" finds Sharon Finn and Neil Finn harmonizing, Sharon adding a beautifully graceful female touch to the laid back, rhythm-driven number.

The acoustic jangle of "Turn and Run" showcases Finn's ability to write a seemingly effortless, hook-y pop song that wraps you in and finds you swimming in Finn's laid back voice complimented by Sheryl Crow's own sweet siren.

Finn's One All is an artistic statement, a message that age and time, like wine, can help you craft one of the best albums of your career. It also establishes the fact that Finn's creative well is anything but dry. Here he pours out his heart and emotion and delivers some of the finest pop songs of the new millennium, twelve songs that stand up against anything else he's done, or anything else any other notable pop-smith has done recently. Hands down a fine album; I'll give it an A.