Kevin Tihista's Red Terror
Judo (Parasol Records)
By: Alex Steininger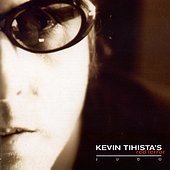 Kevin Tihista was in the underground Chicago rock outfit Tripl3FastAction, a band that found themselves signed to Capitol Records when Chicago became the next hotbed of rock talent (with Smashing Pumpkins, Veruca Salt, and Local H all calling Chicago home). Before they even had time to develop a following outside of Chicago, their major label debut, Broadcaster was released.

As with happens with most major label bands, Tripl3FastAction soon found themselves without a label after Broadcaster failed to sell the units Capitol Records had hoped. The band re-grouped and released Cattlemen Don't on Texas-indie Deep Elm Records, disbanding shortly thereafter.

Kevin Tihista then went and recorded a double album, the first half, Don't Breathe A Word, originally released on Division One/Atlantic Records in 2001, later to be re-released on Parasol. The second half, Judo, was recently released on Parasol.

There is a twist, however, to the Kevin Tihista story. He was neither the front man nor the creative force behind Tripl3FastAction. Both honors belong to one Wesley Kidd. What's more odd than that is Kidd now manages Tihista's career.

Kevin Tihista proves to be an extraordinary front man on Judo, a stellar collection of lush, sparse, and mid-fi acoustic pop songs. Which makes you wonder, "how long was he hiding these songs in the bedroom?"

Whether it's full backing vocals, whispery melodies, swimming layers of instrumentation, or complimentary orchestration, Tihista does right by the songs, penning each piece with nothing more than an acoustic guitar and his voice and fleshing each piece out track by track, instrument by instrument.

Judo is one of the year's most understated, underrated pop releases. Even when Tihista is pulling no punches, vocal harmonies, orchestration, and precisely set layers of enticing melodies all in full effect, he pulls it off casually, giving the songs an easy-natured, if not understated feel to them.

For a man that is new to the 'front man' position, let alone a solo front man, Kevin Tihista and his Red Terror seem natural and confident, coming across as a seasoned veteran delivering one of his most creative moments for nearly fifty minutes. I'll give this an A.