French Kicks
One Time Bells (Star Time International)
By: Alex Steininger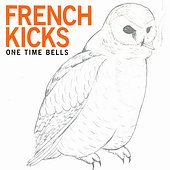 Using garage rock, new wave, and pop-rock in their musical stew, New York's the French Kicks find the sweet spot on their debut full-length, One Time Bells, a record that on first or second listen doesn't seem the most accessible. But the more and more you listen to it the more and more it grows on you, until one day it all clicks and the songs and their melodies make perfect sense.

The keyboard pop and steady percussion of "Down Now" shimmer with simple verses and a chorus that just pops up unexpectedly, grabbing you when the verses don't, and pulling the song together.

"Close To Modern" is an innocent pop song, a soothing, subtle number that seems content floating there, its light, airy texture contradicting the hidden beauty of the melody. Still, even in a reserved state, the song reels you in with its charming mystic as you find yourself falling in love with it more and more each time you listen to it.

But the band isn't only capable of laid-back pop. "Trying Whining" is an example of their garage-rock leanings, a pop song fleshed out with a garage-rock mindset, still equally as eloquent and melodically beautiful as the rest of the songs, though a bit more settled into the rock.

One thing is for sure, no matter what they're doing, whether they're being quiet and unassumingly writing charming pop songs or stepping up a bit more to deliver rock 'n' roll as they like it, the French Kicks always have pop on their brain, and act accordingly. I'll give this a B+.