Dag Nasty
Minority of One (Revelation Records)
By: Alex Steininger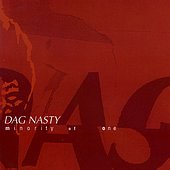 Minority of One is Dag Nasty's first studio record in ten years. It is a full-on melodic punk rock record, one that goes beyond the typical pop-punk tag, offering up everything a pop-punk does, while staying true to the punk and never losing sight of the power that punk propels punk, something pop-punk bands often forget.

Twelve songs, thirty-five minutes, and lots to say, Dag Nasty comes back in full glory, proving they haven't missed a step, as they crank out hook after hook, beefy rhythms, and even something to sing along too. I'll give it a B.