INTERVIEW: Kristy Venrick
of The Azoic & Nilaihah Records (Nilaihah Records)
By: Jett Black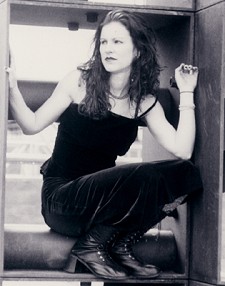 Sometimes, the darkest of angels sing the most seductive music and swing in the most sensual and irresistible of hip movements. Intelligently conceived and produced new music releases issue forth Nilaihah Records now in a flood of soul shaking bass, romantic passion, and intoxicating rhythms onto dance floors and dark radio hours everywhere. How does one find the path into such reliable passion? It doesn't emanate from the major players. Where does it begin? Trends never begin in the big city places they end up gravitating toward. Trends begin away from the glitz and press of corporate carrion birds. New Music Trends begin in remote locations and with independent musicians such as Kristy Venrick.

Let's hear what this independent musician, and new music label owner has to say about releasing independent records.

IMWT: What does Nilaihah Records bring to the music community?

Kristy: Passionate music. I pride myself on releasing electronic music with feeling and strong emotions. I look for those bands who are creative, original, professional, and motivated, those who have something to share.

IMWT: Please describe the diversity of music genres spilling into and out of Nilaihah Records.

Kristy: I don't like to pigeonhole artists/bands, but you need to give people an idea to get their attention. We release various forms of Electronic Industrial, Darkwave, Synth-Pop, EBM, Electronica, Trip Hop, and Dark Pop. I hope you will listen for yourself.

IMWT: For new releases, how do you generally go about setting up CD release parties all across the USA? Or do you out-source for those details?

Kristy: I currently do all of the promotions myself, but it is becoming quite overwhelming. Whenever I have an upcoming CD, I contact those DJ's who have supported the label in the past and ask if they are interested. I also get new requests from DJ's, promoters, and/or clubs. I basically try to make sure most major cities are covered and hope the new music reaches potential fans.

IMWT: Do you still have a day-job? What do you do when you're not recording, touring, and releasing music for other musicians, etc?

Kristy: Yes, I still have a day job, and a demanding one at that. I couldn't afford to release music if I didn't. And most of my time isn't spent on creating music or performing, unfortunately. It's being an architect by day and running the record label at night.

IMWT: What does Nilaihah feel like to you now? How has it weathered the economic storms? How well is Nilaihah prepared to continue the journey?

Kristy: Nilaihah will continue as long as there is enough support. I think we've weathered the economic storms, but downloading and illegal copies have stunted our growth. I don't think people realize what blood, sweat, and tears go into creating and marketing music. It's a full time job in itself, so aside from my day job, I work every evening hoping to expose the world to more amazing music (and just keep up on emails). It does take a huge love for music to be devoted enough to keep going and means even more when people recognize your efforts.

IMWT: Nilaihah ... hmmm... What is that?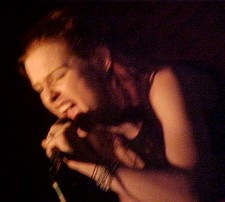 Kristy: 'Nilaihah' is a fallen angel who wrote poetry. I found the name several years ago when I was researching angels. It was originally used for the name of an Azoic song. I never thought I'd have a record label and before I knew it, Nilaihah Records was born. People always ask, "why nilaihah?" Yeah, it's not common, but I hope it's becoming fairly well recognized after 3+ years. Oh, and it's pronounced [nil-EYE-ah] phonetically.
IMWT: What alliances and partnerships has Nilaihah formed to keep the momentum flowing and productive?
Kristy: Oh, many. We have a handful of distributors that really take care of us, such as Metropolis and A Different Drum and even DDM in Europe. We also are close with several of the labels in the scene. I feel the more you work together as a whole, the stronger you'll (collectively) be.
IMWT: Which new music artists have released CD's via Nilaihah Records?
Kristy: Null Device is the only "new" band releasing their debut on Nilaihah Records. The rest of the bands have previous CD's on Nilaihah or other labels. But, there could be some more debut releases in the near future!
IMWT: Which are the new comers at Nilaihah Records?
Kristy: Null Device and Backlash, both very original and melodic bands that are getting a lot of attention they finally deserve. Null Device released their debut 'Sublimation' in July and Backlash released their first US CD (a mix of previous Swedish releases) entitled 'Impetus' in August. Both seem to be well received.
IMWT: What's the big news on Backlash? How did you hear about their music?
Kristy: Backlash is a well-known Swedish band on Memento Materia Records. Their 2001 Swedish release of 'Impetus' was nominated for best album of 2001 at the Swedish Alternative Music Awards. Memento Materia sent me several CD 's and inquired about licensing for the North American market (Canada and US). I heard Backlash and knew this would be a slightly different direction in sound, but a great opportunity.
IMWT: What's the story with Null Device?
Kristy: Two very talented technical guys creating some of the most melodic music I've ever heard. Intelligent Synth-Pop filled with dance beats, introspection, and strong compositions. The two Eric's (that comprise Null Device) met in college and began creating music. They now live quite far apart from each other (Madison, WI and Berkeley, CA), but still have a strong music direction. They sent me their demo and I couldn't stop listening to it. So, I asked to hear more.
IMWT: Which music groups include you as a musician and vocalist?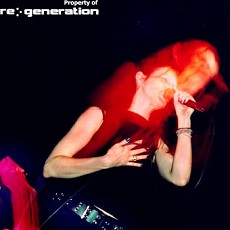 Kristy: The Azoic is my main project and has been since February 1996. I have also done various guest vocal spots and side projects and am always open to try new endeavors. I hope to continue creating music for a long time.
IMWT: Kristy Venrick can be a bit modest sometimes about her highly involvements within the music scene. For a more detailed look into how Kristy keeps herself busy with music, check out her online biography: http://www.nilaihah.com/kbio.htm
IMWT: When & Where have you recently performed LIVE music?
Kristy: We've been asked to play several shows recently and just played Cincinnati, and Detroit in July and DC and Pittsburgh in August. We also have several upcoming shows.
IMWT: The Azoic will be performing a couple of shows with Imperative Reaction soon, yes? Which LIVE show dates does The Azoic have planned for October 2002?
Kristy: Correct. We are playing with them in Dayton, OH on October 4th, and then in Chicago on October 5th. We are looking forward to them. And, as for the rest of October, we actually had to recently turn down a date in Miami, FL, due to vacation/jobs, but hope to play there soon. We are getting requests from several places and are looking forward to playing as many cities as possible.
IMWT: What are people saying about DISSONANCE? What music does DISSONANCE have available that fans and DJ's are really turning onto?
Kristy: Dissonance's 2nd album, 'Reincarnate', on Nilaihah Records, is not your typical 4/4 dance club album. It does have some dance tracks, but explores much more. Dissonance is well adept at creating melodies and strong hooks through lyrics and song structure. Imagine dark dance/pop with similarities between NIN meshed with Annie Lennox/Eurythmics. 'Reincarnate' also includes a well-done cover of The Beatles' "Eleanor Rigby" and remixes from Oneiroid Psychosis and Signal 12. And even Paul Robb (of Information Society) recognized this group's talent by releasing their now sold out debut.
IMWT: What is SYNFEST? Where is it being held? How will you be getting involved with SYNFEST this year?
Kristy: Synfest is the first annual Cleveland electronic/synth music festival coming up on September 28th, held at the Phantasy Club in Lakewood. I will be on the panel discussions representing Nilaihah Records and discussing independent labels and marketing.
IMWT: Which music festivals has Fiction 8 performed LIVE while on tour this year?
Kristy: They were one of the headliners at both GothCon in New Orleans and Salt Lake City's 'Dark Arts Festival'. GothCon was in late March and the Dark Arts Fest was held in the summer. Both events were well received and as a result, Fiction 8 is getting asked to play more live shows. We will see what more happens when they finish their new album.
IMWT: What does Nilaihah and its member musicians have lined up for fans between now and next summer?
Kristy: By next summer. Hmm. New releases from Fiction 8 and The Azoic, plus I hope to release 2 more CD's of bands I am speaking with now, or, even possibly a 'V/A - Resistor 2' compilation. It's hard to tell. It can take 6 months to a year to release a CD when you include all the negotiations, mastering/production, graphics, promotions, pressing, etc. so you never know. And, surprises pop up all the time.