Lycia
Tripping Back Into the Broken Days (Projekt)
By: Sonya Brown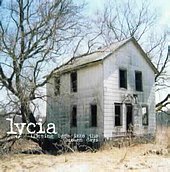 Several years ago, I asked a friend, "what would you consider to be the quintessential piece in your music collection?". He replied, "Lycia". Shortly after that converstion, I purchased "A Burning Circle and Then Dust", and then quickly learned for myself the brilliance of Lycia.

More recently, I was quite pleased to receive their latest work, "Tripping Back into the Broken Days", for review. What I found upon spinning this CD was a less electronic Lycia than what I had previously heard. This dreamy, ambient recording provides clear vocals reciting romantic poetry set to lovely acoustic guitar. The theme, self-described as a sentimental journey across America, feels more to me as if Mike and Tara VanPortfleet have arrived home and discovered the raw beauty of the seasons of life and nature.

After a two and a half year absence, Lycia is back with such extremely personal music that you almost feel a bit guilty hearing their emotions stripped so bare and with such brutal honesty. CD jacket photography, by Mike Vanportfleet, contributes a fitting pictorial tribute to the vanishing rural landscapes of America. The photography seems reminiscent of one of my favorite art books, "Farewell To Fond Memories" by R. Bradford Johnson.

Lycia takes listeners on a restless sojourn through ghost towns and homesteads, through the "gentle breeze of the summertime", and "vacant winter days", and then lands you softly at home, "tripping back into the broken days".