Parasol's Sweet Sixteen 5
A collection of Parasol, Hidden Agenda, and Mud Label releases (Parasol Records)
By: Alex Steininger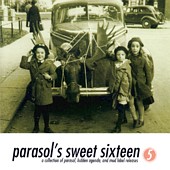 Starting off with "Back To Budapest" by Kevin Tihista's Red Terror, a magnificently beautiful piano pop song flushed out with strings, bass, drums, guitar, and horns, the lush composition quickly establishes Kevin Tihista's Red Terror as a pop threat. It also establishes Parasol as a label that knows their pop.

The Soundtrack of Our Lives deliver a previously unreleased track, "Lone Summer Dream", a vibrant, colorful pop-rock number, lush and lively, while Doug Powell's "Baby Blue" is a slumbering, realized pop delight, a charming mixture of soft rock and elegance that unravels into a stunning pop masterpiece.

Other artists shine as well, with The Possibilities delivering their interpretation of pop with "Invisible". The Melody Unit's "Suite For Caesar" bubbles with male/female vocal duets. And then there is The Witch Hazel Sound and Toothpaste 2000, two very different bands (the first going back to the early days of AM radio pop and the latter serving up their sound with a lot of rock).

Parasol and their umbrella labels Mud and Hidden Agenda release top-notch pop records from some of the finest minds of the genre. Sweet Sixteen 5 is proof of this, with each of these tracks sparkling and shining from start to finish, hooking you and reeling you in time and time again. I'll give this an A-.