Mus
El Naval (Darla Records)
By: Alex Steininger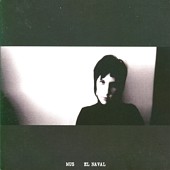 Mus (Monica Vacas and Fran Gayo) deliver an enthralling album on their sophomore effort, El Naval. It is a record that holds true to the principals of pop - hooks, melodies, and vocal lines that you want to sing along with - but allows room for folk, using its sparse, airy qualities to further allow the music to seep into your subconscious.

At times sober and at other times straightforward, Mus craft songs reminiscent of movies. You can close your eyes and follow along, making up your own scenes in your head track-by-track, or you can listen with your eyes open, taking in the visual sounds and having your mind perceive them as it interprets each phrase.

One of the things that stands out on El Naval is Mus' ability to put you into a slumber state and then rattle you awake with not much more than the song that put you to sleep. You'll roll your eyes, scratch your head, and wonder what startled you, the songs still going as if nothing ever happened. I'll give it a B+.