Lisa Loeb
Cake and Pie (A&M/Geffen Records)
By: Jake Beamer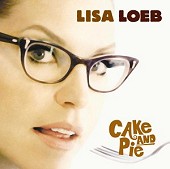 Lisa Loeb's newest album Cake and Pie is a well-written, well-produced gem of an album. However, I've been a Lisa fan for a while and I think she's done better, frankly. The songs are still catchy and thick, but her two previous mainstream releases, 1994's Tails and 1997's Firecracker I feel are much more cohesive albums.

However, that doesn't affect the fact that Cake and Pie is very listenable and pleasant. A campy theme runs throughout the album's art and Lisa's website, frankly I'm surprised she was never more of a sex symbol.

All that said, the songs on the album are good as a whole, only a few really lack unique flavor and there are only some that might be a little more generic than others. The first single "Someone You Should Know" is really addictive, as is the opening track "The Way It Is" and "Bring Me Up", the second track. The third song, "Underdog" I didn't like much at first, but after repeated listens, I like it more now.

The same applies for track four, "Everyday" - despite everyone and their mother using this song title - the song has appeal after a few listens. It does repeat a bit much for my liking though, and the melody can be a little too sickeningly-sweet.

But that might be the low point of the album, because the rest of the songs are solid, catchy and well-written as I said before. I think I should stress this though, Lisa Loeb's powers of songwriting have been oft-overlooked, and her talents continue to shine through on Cake and Pie.

The best track of the album might be "Too Fast Driving" which features guitar playing by boyfriend Dweezil Zappa. It's probably the fastest and most upbeat of the songs. Lisa apparently now does much of her work with Dweezil, whether he just plays on the track or co-writes. It makes for some good music, though. No huge complaints really, on a whole for Cake and Pie. Because although it may not be AS good as her past two albums, those albums are hard to beat!

I just hope Ms. Loeb can get some of the recognition she deserves in future years and that she keeps releasing better and better records. Her recent pact with Peavey for a giveaway was a good start. See the well-designed lisaloeb.com for details.