Jimmy Fallon
The Bathroom Wall (Dreamworks Records)
By: Alex Steininger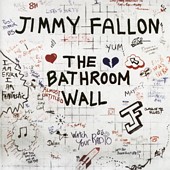 Saturday Night Live's Jimmy Fallon falls short on his debut album, a mixture of tongue-in-cheek songs and stand up comedy. From the cheesy disco of "Idiot Boyfriend", the white-boy rap of "(I Can't Play) Basketball", and the country ballad "Drinking in the Woods", Fallon seems more content embarrassing himself than offering up anything musically memorable.

The metal-punk "Road Rage" and alt. rock "Snowball" offer nothing either, mimicking the genre in which they tread, mocking themselves as much as the corny aspects of the music at hand. What's worse is Fallon's stand up act, which offers only a few laughable jokes from start to finish.

Hopefully Fallon doesn't see The Bathroom Wall as his way to silver screen fame, because if he gives up SNL, he'll be giving up the only thing going for him now. This is an embarrassingly painful album to listen to. And, after only one time, you'll have had enough. I'll give it a D.