Jelly Bean Bandits
Time And Again (Jelly Bean Bandits)
By: Gary "Pig" Gold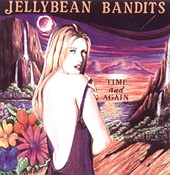 For those not already atuned to this fantasmagorical story, the Hudson River Valley's Jelly Bean Bandits released an instantly-collectable album on the (anything but!) Mainstream label in 1968, promptly disbanded, and only now, thirty-four full years later, have unleashed their sophomore effort upon a totally unsuspecting world. And while it sounds as if not a single ear attached to this quartet have turned on a radio in the past quarter century -- not that there's anything WRONG with that, of course -- the positive sincerity plus world-weary innocence which positively drenches this album more than makes up for its occasional Doors-lite-meet-Doobies ambiance.

But the true possible revelation here are the five vintage-'60s recordings which make up the 'bonus collectors section' of this disc: Besides a de rigueur "Hey Joe," "Salesman" and especially "Going Nowhere" captures these Bandits in every single speck of their fuzz'n'nehru-encrusted vanilla-funk glory. Ahhh... just beautiful!

Now, cobwebs duly shaken off, hopefully these guys will bring us a third album long, long before A.D. 2035 rolls around ...but until then, try to get on their mailing-list, everyone, coz this band sends out Christmas postcards every year that are even cooler than the Chesterfield Kings'!