Jason Loewenstein
At Sixes And Sevens (Sub Pop)
By: Alex Steininger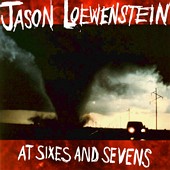 Sebadoh bassist and co-founding member Jason Loewenstein went to work on his debut solo record when Sebadoh front man Lou Barlow re-focused on his other band, Folk Implosion. The result is At Sixes And Sevens, written, performed, engineered, and produced by Loewenstein on an analog reel to reel 8-track 1/2 machine between 2001-2002. Loewenstein even designed the artwork for the CD, giving new meaning to the term 'solo album'.

All his hard work paid off though, his conceptualization and realization coming full circle with the release of the record. An assault of meaty guitars and understated melodies, Loewenstein measures up to the hype with a record that basks in its imperfections.

Loose and under produced, at times sounding like a demo that hasn't been fully realized, while other times sounding complete, Loewenstein thrives on the rawness, keeping things lively and entertaining, even when he's delivering a mid-temp song. Though there are a few slower songs, they still possess the distorted bass and buzzing guitar sounds that make Loewenstein's songs such gems.

And for every slow(er) song there are three more blazing rockers that will knock you on your ass and make no excuse for doing so.

At Sixes And Sevens is bare bones rock, a record that not only finds Loewenstein exploring his roots, but one that takes Sub Pop back to its glory days, allowing Sub Pop to relive what made them a rock staple. But don't think that Loewenstein has gone grunge. Rather, he has captured the spirit of the loud early 90's rock, doused it with a pop sensibility, and delivered a fearless rock 'n' roll record that is minimal and yet still full sounding. I'll give it an A-.