The Black Watch
Jiggery-Pokery (Stone Garden)
By: Alex Steininger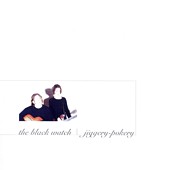 The Black Watch are all about the well-balanced pop songs, songs that are not too rocking, but rock, maintaining a great sense of hooks and melody, giving them what they need to be more than pop songs, but keeping them from becoming stale.

The male/female vocal combination, with the male primarily singing lead, and the female offering the contrast, further boost the band's pop credibility. All the while the band cranks out things with plenty of guitars - acoustic and electric - and the rhythm section keeps thing active, pushing the pop to the forefront, but retaining every ounce of rock 'n' roll taste.

The outcome is a solid record that sometimes borders on power-pop, but blossoms into more the rest of the album, sounding like a well oiled pop machine capable of spitting out fine, hook-laden songs that make you want to bounce and sing along. I'll give it a B+.