SHOW REVIEW: Hope Sandoval and the Warm Inventions (Rough Trade)
By: Sean Strauss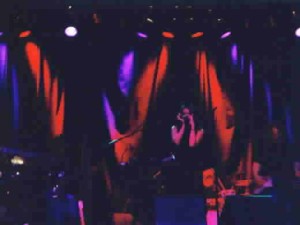 While on hiatus from the dizzying acoustic bliss of Mazzy Star, Hope Sandoval, the mistress of melancholy, decided one more sad and lonely with a touch of honey band wouldn't hurt. And she was right. The music is wonderful. In support of their first LP, Bavarian Fruit Bread, Hope Sandoval and the Warm Inventions played the Aladdin Theater in Portland on August 11th.

Having arrived an hour early to assure a front-row-center position, it was surprising to see only five concert goers waiting for the box office blinds to rise; in fact only a handful of people were lined up before the doors opened. I suppose the fact that most pop music aficionados humming "Fade Into You" in their college dorms failed to realize that Mazzy Star was not the singer's name, as one venue passer-by blatantly attested to. However, by the time the lights went down and the opening act went up, a brief glance behind me confirmed that all the clove-smoking coffee shop regulars were in the house and ready for love. The snake-and-dragon blues of the Soledad Brothers was enough to get anyone pumped up for a good show. Foot tapping easily migrated to knee-stomping, head-wagging blues rock power as the drummer knocked his skins and cymbals around like a slap-happy pimp only to have one of his sticks shoot off like a firecracker into the wings. (Yes, I snagged it.) The double-guitar trio did kick some butt but it would be dismissive to deny that one of their songs was a clear rip-off of "Jumpin' Jack Flash." In any case, the forty-five minute Soledad Brothers jam session was an interesting choice to open a show where roses were intended to wilt in their invited gloom. After a lengthy cool down / set change, the lights dimmed again...for quite a long time. The audience suffered through at least another five minutes of raunchy country house music before the Warm Inventions drifted into a warm reception.

Without a word of acknowledgment to the crowd, Sandoval and Co. swayed into the first song of the evening, "Lose Me." Alternating between two microphones (one for voice and one for harmonica), Sandoval's delivery was delicious. The sultry voice was just as marvelous as it had been in my headphones. The band was on. Chemistry flowing. The mood was like a candle-lit wine tasting. It was going to be a great show. I could feel it. I was wrong.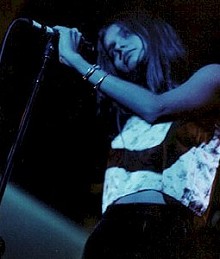 After being lulled to sleep on many occasions over the past nine years by Ms. Sandoval's husky nightingale voice, it damn near kills me to say that, in a live performance context, it appears the Mazzy Star front does not like to be on stage. Performing most of the show with her hands on her hips or behind her back, Sandoval showed absolutely zero compassion with her body; not that you could even see her body. The entire show was cast in shadows. The weak emissions of red and purple sure were pretty, but isn't it called a "show" for a reason? The trip-hop artist Tricky also practices this lighting approach, but at least when he's on stage he looks like Gumby on amphetamines. Sandoval offered no hope; she just looked bored out of her skull. Apparently there are unwritten rules with her concerts, such as no one is to yell out to her, and aside from one exception of expressed love, that rule was obeyed. For seventy-five minutes, it was song-applause-crickets. Now, if someone's lyrics and persona were so profound to merit this kind of bullshit behavior, he or she better have James Dean's charisma and be spouting fountains of Rilke-like tragic romance. This was not the case.
Thankfully, the music was enough to make it almost worth the price of admission. The live extensions and alterations on songs like "Clear Day" and "Suzanne" were miniature journeys into magic hour. And the low light did provide a beautiful silhouette of Hope as her arms made a heart shape while playing her mouth harp. After the first set, Sandoval mumbled something that sound like "thank you," and pouted off stage. After a much too generous romp from the crowd, the band sulked back on to stage for one more song, which was only luke warm with feeling. All in all, the concert was like listening to the CD on random in a darkened theatre. What made it even worse was looking at the set list and realizing that they decided not partake of what could of been a saving grace, a cover of Rolling Stones "Playing with Fire." A sad experience for already dismal material.