SHOW REVIEW: The Arrogants w/ The River, Summer Shorts
The Hub - Friday, July 26th, 2002 (Fullerton, CA)
By: Liane Chan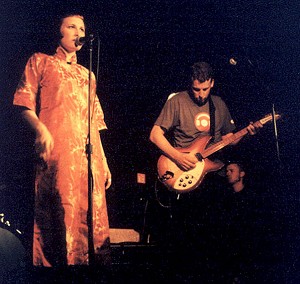 This was was the first show by Orange County's best kept secret the Arrogants in 17 months. The female-fronted indie pop band made their much anticipated return to the Hub, a small outdoor venue near the Metrolink station which the Arrogants played regularly between 1998 and 2000. The Arrogants played 12 songs from their 1999/2000 EP "Your Simple Beauty" on the respected indie label Shelflife as well as their soon to be released "Nobody's Cool." Highlights were their delightfully rockier song "Lovesick" and new song "The Incurables." Their live sound is a bit heavier than on record, which leans towards more mellow acoustic pop songs like "Costa Rica."

This band has a lot to be proud of: the sweet vocals of singer Jana Wittren (not unlike their biggest influence, the Sundays or the Red House Painters) complemented by delicate instrumentation of the McFerson brothers, Jayd on guitar, Jeff on keyboards, and Jon on bass. In person, the Arrogants are very warm, funny, and personable, not at all arrogant. They even stayed around after the show selling band T-shirts of many different colors and designs for only $5. Super friendly and nice is what the Arrogants are all about, they even brought Ding Dongs and delicious chocolate chip cookies for the packed audience.

Shelflife-labelmate The River was a French man named Fabrice with a delightfully wispy vocals very reminiscent of Belle and Sebastian and distinctive synthesized and acoustic melodies, which ranged from disco and electronica to mellow indie pop. One of the best songs was a duet which featured Fabrice on acoustic guitar singing with Jana of the Arrogants. Another treat was the River's acoustic cover of the Arrogants song "Lovesick."

Openers Summer Shorts were an impressive four person emo-punk rock group. They played a half hour of catchy melodic punk songs that involved occasional switching off of instruments and vocal leads. For a genre that is becoming all too common, their music was actually very good. Their half hour set was full of exciting pop hooks and noisy guitars, a nice start to an excellent showcase of local and international musical talent.