INTERVIEW: Flipp
Minneapolis' Flipp Goes All Out for Rock - Make-Up and All (Popularity/Artemis Records)
By: Alex Steininger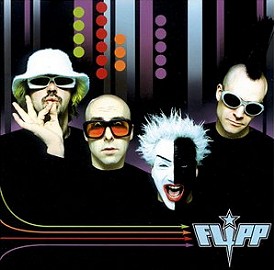 "When people listen to (our new) record, I hope they like it or chuck it out the window," Brynn Arens, front man for Minneapolis' Flipp, says without hesitation. "We're not your flavor of the month shit. I want people to love it or hate it."

And he's serious. Most musicians saying something like this would sound fake, the majority always wanting, if not needing you to like their music. However, Arens and Flipp are an exception to the rule, a band that embodies rock and roll in all its excesses and extremes.

Known as much for their music as they are their live show, Flipp remembers rock 'n' roll radio and wants to re-introduce it to society, winning over the world one crowd at a time.

Their plan is to play rock with a cock, with Marshall amps screaming as the noise from their guitars rips through the speakers and fills the air with addictive melodies that are so crunchy you can't stop at just one. This is the Flipp program for success.

Unlike other bands that hit the stage looking like they just woke up, Flipp takes pride in their songs and the presentation of them. That is why anyone who has seen a Flipp show will never forget it. Bassist Freaky Useless talks to his alien parents through his bass and watches as they talk back through lights mounted on his amp. Using his Space Odyssey 2000 JetPack for the finale, he flies away to visit his parents in space.

Meanwhile, the rest of the band is also in full make-up and costumes. Arens paints his face half-black and half-white to symbolize his personality being half sick and half crazy, drummer Kilo Bale sports green hair and a green goatee, and second guitarist Chia Karaoke dresses up in the latest karaoke fashion.

As Arens puts it, "We don't try to put on a show, it's just fun for us. It's what we dig. Having no image is an image, too. It's the same as wearing jeans and a T-shirt. We just choose to wear costumes and make-up."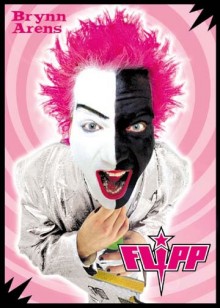 Flipp is not calculated and Flipp is not cunning. They're just four Minneapolis-based rock and roll lovers who got together because they have instruments, songs, and a will to play the music they love. So when things happen for Flipp, they just happen by chance.
"The make-up didn't come from anywhere," reveals Arens. "I did it on the 'My Generation' video and then didn't do it for a while, but thought it looked cool when I watched the video. I loved it so I said fuck it and did it. I got a lot of shit for it, but loved it and kept doing it."
In case you were wondering, Arens is indeed referring to a cover of the Who's "My Generation" ("The original is on amphetamines, so we did a take on it like it was on downers," he says), and the video he and drummer Kilo Bale made for the song ended up on MTV -- something that happened coincidentally when Arens, stoned out of his mind, decided to enter the MTV headquarters.
"It was purely by coincidence that we won the MTV unsigned band contest or that we even got the video to air," laughs Arens. "I was walking down the street in New York and was completely stoned. I had the 'My Generation' video in my hand and saw a tourist group, so I snuck into the Viacom building with them. I then went up the elevator, got to a desk, and said I was Brynn Arens and I had an appointment with Vikki Augill. My hair was green and everything. The lady at the desk looked at me and said, 'You have an appointment with Vikki Augill?' And I said, 'Yes, I do.'
"Vikki came out and I told her I snuck in. She laughed and played the tape right there. She loved it.
"I was very surprised I got in. I thought, 'what do you got to lose? If I get kicked out, I'll be the same as I am now.' So I went for it and we ended up getting played and winning."
And from there the Flipp tale got weirder and crazier, something Flippheads (what they call their fans) have come to expect from the band.
Only two months after winning MTV's unsigned band contest, Flipp was invited to play the first Edgefest, a radio-sponsored festival attended by more than 25,000 concert-goers. Mayhem soon ensued.
"When we were playing there was mud everywhere," Arens recalls. "We played with our pants down and people were throwing mud at us. Someone taped it and sent it to MTV and it made MTV News".
The band has played every Edgefest since, giving the fans a surprise each year, including 1999's stunt where Flipp hired five boy band look-alikes to take the stage instead of them. When the crowd started booing them and chanting for Flipp, Flipp answered by charging the stage and kicking the boy band's ass.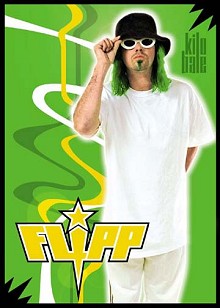 The band signed to Hollywood Records, releasing their debut, self-titled full-length on April 15, 1997.
"We rented a flat bed truck and drove down to the Minneapolis Post Office," Arens says of the band's CD release party. "We played for about twenty minutes before the police shut us down. We all ran in different directions through the crowd and got away.
"It was the busiest day of the year, tax day, for the post office. All the local press covered it. It was a lot of fun."
Following that, the band earned the opening slot on Cheap Trick's summer tour. Flipp decided to kick off the first night of the tour with a bang, performing at the Taste of Chicago. They poured a ton and a half of cereal on the crowd.
"You know how people are always like, 'If you ever need... call me'. Well, someone had told us 'If you ever need a helicopter, I'm your guy'. So we called him up and said we had a ton and a half of cereal we wanted to pour over the crowd at the Taste of Chicago," Arens tells me. "He said sure. So we loaded up the helicopter and he flew over the crowd and poured the cereal on them."
The pilot was later arrested for littering. As Flipp fortune would have it, the case was thrown out. "The pilot's father -- god rest his soul, he passed away six months ago -- was the head judge here in Minneapolis so the charges were dropped," laughs Arens.
"The best thing is," he continues, "we got the cereal for free. We went to General Mills right over here and they gave us the cereal. We told them what we were doing and they just gave us the cereal.
"The cereal was Maltos or something, the generic Fruit Loops, but we like to pretend they're Flippos."
Cheap Trick's reaction? "They loved it."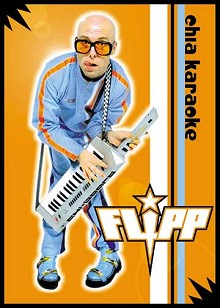 The Cheap Trick tour went well. Flipp made new fans of every crowd. However, with the debut record receiving little national attention, Hollywood dropped Flipp. They answered by self-releasing a live EP in 1998 in a Flipp Cereal Box, complete with Flipp Cereal, Flippos.
"We put them in all the regional stores ourselves. They were really odd shaped - cereal box shaped - so they couldn't really go in the CD bins, so stores put them on the counter. It became its own poster/billboard. It gave us high visibility, because when you walk into the store, there it was," shares Arens.
Again, another mishap turned into something that benefited the band. "To use a Kilo phrase, it has happened 'organically' for us," Arens says happily.
The band also released a full-length in 2000, Blow It Out Your Ass on Oarfin Records and continued doing what they do best - rocking any audience you put in front of them.It eventually paid off for them. Putting a CD in the hands of Everclear bassist Craig Montoya, Arens urged Montoya to pass it on to Everclear front man Art Alexakis, after learning that Alexakis was starting an imprint label, Popularity Records, distributed by Artemis Records.
The hand-off resulted in Alexakis asking Flipp if they wanted to tour with Everclear. Soon, Alexakis asked Arens if he would like to be the first band to release a record on Popularity Recordings.
"I said, 'do you even need to ask that? YES!'," Arens recalls with excitement.
"Art is a true rock 'n' roll spirit," continued Arens. "He knows what rock 'n' roll is. And that's what we're about. That's where it all came through.
"I don't know why we get along, but we do. It comes naturally, it's not work. It's fun. When it doesn't come naturally it's work. But, we get along great and hang out all the time."
Alexakis not only released the record on his label, he also co-wrote several songs and produced the album, Volume.
"'I Still Love Rock and Roll' and 'Freak' [the album's first single] were co-written by Art and I. I had the bulk of 'I Still Love Rock and Roll' written. I wrote it four days before we went into the studio. The bulk of it was done before Art worked on it with me. We worked a lot more on 'Freak'."
Alexakis' experience as a producer and a musician helped guide Volume. Arens went as far as wanting to drop a few tracks before Alexakis talked him out of it.
"'Clone Me,' the opening track, one of the first tracks we ever played together, 'Hairdo', and 'La De Da' almost didn't make the record," remarks Arens. "We could never get 'Clone Me' right and the other two didn't seem to fit. But Art had a vision.
"With 'Clone Me' I wasn't happy with the vocals and Art kept going, 'Go with it, it's good.' He made a brilliant call by leaving it there. I'm very happy with it. Thank Art that those three songs are on the record."
What does Flipp have planned to promote Volume?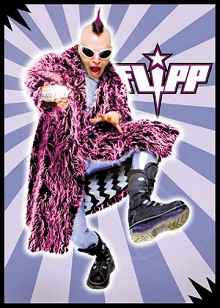 "Saturday we're playing three garages to celebrate the release of the record," mentions Arens. "At noon we're playing the garage of the local radio station winner. At three we're playing the website winner and at six we're playing the St. Cloud winner. We're also going to play a forth show. We're going to play this venue in St. Cloud; we're going to take over the stage unannounced at midnight."
"Bum rush the stage and just take over without permission," I ask?
"It will probably be 'here's some shots and some beer, can we play a few songs?'" replies Arens.
"We're also making a video for 'Clone Me' for $1,000. We're making it the slow way because everyone is doing it to help us out and for the love of rock 'n' roll. The video is taking a while, but should be done soon.
"Most bands would go 'Why? You're not going to get on MTV.' But we do the videos because we love them. No MTV, we just do them for fun and then put them on the website."
Arens concludes, "It's not a math equation, you can't think it out. That's not what rock 'n' roll is about. That's the Flipp philosophy."
And what an appropriate philosophy for the band that just may help save rock 'n' roll.