INTERVIEW: Buck-O-Nine
Front Man Jon Pebsworth Talks About Their Semi-Retirement (Buck-O-Nine's Web Site)
By: Alex Steininger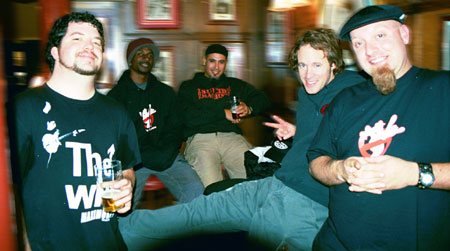 "I guess you could call it a hiatus, but it's more like semi-retirement," says Jon Pebsworth, vocalist for the San Diego ska-punk outfit Buck-O-Nine, on the band's demise following their 1999 full-length Libido.

"We started playing shows for fun on the weekends here in Southern California," he continues. "It is now a hobby for fun, kinda like when we started back in 1991."

Emerging as one of the top ska-punk acts with their two Taang! full-lengths - 1994's Songs in the Key of Bree, 1995's Barfly and Water In My Head EP in 1996 (also on Taang!), Buck-O-Nine quickly found themselves caught up in the hype surrounding the third wave of mainstream ska.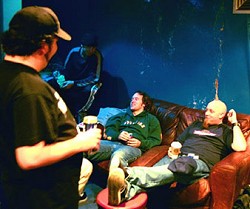 The band signed with TVT Records, a large independent with major distribution, to release 1997's Twenty-Eight Teeth and the follow-up, Libido.
By the time Libido hit stores, the media's fascination with ska had dwindled, sales were down, and a majority of bands had broken up or were in the process of calling it quits. Even the bible of indie ska, Moon SKA USA, was feeling the burn, as returns from their distributors mounted, forcing them to close their doors in 2001.
And though Buck-O-Nine had proven their range on all their releases, particularly with the soothing pop of "Swimming in Sand" and power-pop of "Who Are They?" on Libido, the industry still perceived them as a ska band.
The mounting pressures and diminished ticket and record sales due to the abandonment of ska by many trend followers would put the first nail in the band's coffin.
When asked if it is true that the band is writing new songs, Pebsworth strongly affirms. But when prodded if the band will record another full-length, he politely answers, "I have no idea. Never say never. It is really hard to say."
So, besides playing weekend gigs for fun, what are they doing now?
"Good question," Pebsworth responds. Then jokingly, he answers. "I don't know. Maybe we should start a really tripping rumor like Jonas is an artist in a nudist colony somewhere in Europe. Tony is running a fashion magazine in Japan. Dan owns a restaurant in San Diego and cooks the food himself. Craig is an astronomer. I ran off with a stripper from Vegas and we sit on the beach in Mexico drinking Corona and fine tequila."
In reality, Pebsworth is working at the punk indie label SideOneDummy and playing with his new band, Jet Cinema, a band he tells me plays all different styles of rock, including bluesy rock.
When asked if SideOneDummy would ever be interested in the next Buck-O-Nine album, if one were to materialize, Pebsworth is straightforward and honest about his expectations.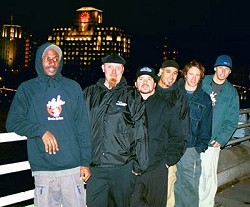 "I doubt it," he tells me. "I would have to quit my job here and commit to going on the road full-time to make a deal like that work. It's a Catch-22. To get a label to put up money to record, release and market a record the band has to be willing to tour. That isn't a reality for us right now.
"It is very expensive to tour. There really has to be enough demand in order to sell enough tickets to make it worth it. I will say this: If I was a wealthy man and didn't have to work another day in my life, I would go on tour tomorrow!"
Pebsworth then offers some insight on why ska was left for dead by the media and corporations.
"Unfortunately, the industry plays a strong role in everything. But the only reason the industry abandoned ska is because the kids did. The industry doesn't care what product they are selling. They are just fulfilling supply and demand. If kids liked classical music that would be on KROQ and all over the magazines.
"I don't want to sound bitter. I am just realistic. I like living in a fantasy world just like everyone else. But sometimes you just have to put your feet on the ground for a while."
And so goes the saga of another band swept up in the trends and destroyed by corporate excess and greed.